West End is one of Anguilla's most coveted destinations. It's home to the island's most luxurious resorts including Four Seasons, Cap Juluca and Malliouhana.
If you are looking to be close to some of the island's top hotels and restaurants, look no further than West End's lesser known gems! This article will cover three areas ripe with real estate bargains: West End Bay, Sherrick's Bay and Lower West End Point.
Let's start with the most overlooked beach in Anguilla, West End Bay. With ultra luxury resorts and swanky Anguilla villas right next door, you'd think this beach would be well known.
Getting recognition can be tough! However, that spells "opportunity" in the way of sensational land at reasonable prices, both a bit inland as well as seafront. It is an area that is as beautiful as Barnes Bay, but with some truly outstanding Caribbean real estate.
You'll find Anguillians and their families here from time to time. But no one else.
The west end of Anguilla is hot and famous!
Maunday's Bay has the Belmond Cap Juluca Resort. Barnes Bay regularly hosts Hollywood stars like Robert deNiro. Meads Bay boasts the Four Seasons and Malliouhana. Shoal Bay West has Altamer.
But, amongst all this glitter, West End Bay is tucked away, waiting to be discovered. Or not...
While just next door Barnes Bay is lined with opulent villas and mansions owned by the "the winter crowd," West End Bay couldn't be more different...
The beach is dotted with Caribbean style homes, and locals frequent these waters. Whether fishing or taking a dip, Anguillians enjoy West End Bay's tranquility.
There is one group of villas on the beach, Indigo Reef Villas...
Indigo Reef Villa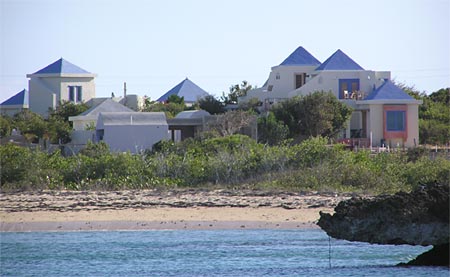 They are privately owned and can be rented.
There are nice and affordable Anguilla real estate opportunities all around Indigo Reef Villa and West End Bay. It's my Dad's "favorite undiscovered beach." Plots of land for sale are advertised privately (not through an agent).
The bay has a good deal of rocky front, too, perfect for house building.
The water is turquoise and warm, just like Barnes Bay...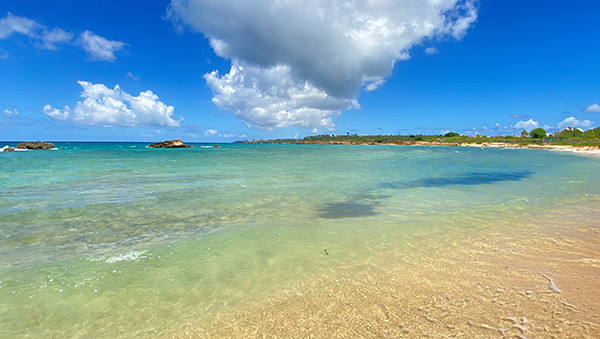 It's a charming, forgotten bay, with ample Anguilla real estate opportunity! No restaurants, no hotels here, but just a few minutes from the best resorts and other charming spots. And the bay speaks for itself.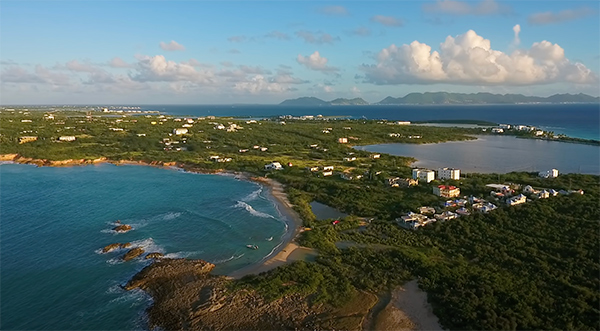 Further to the west is...
Lower West End Point
Western Tip of Anguilla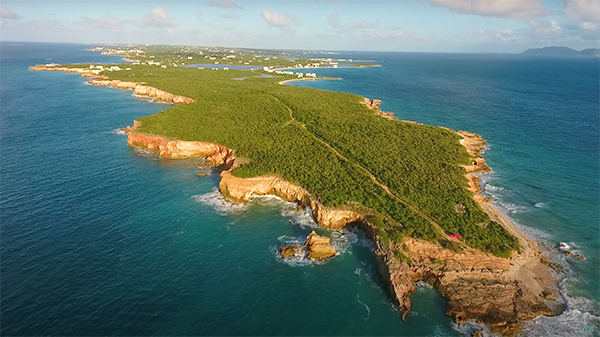 Lower West End Point is about secluded as it gets. Getting there can be a real killer.
Make the trek, though, and you are rewarded with great waves, pelicans, a view of the sunrise and Anguillita...
The closest homes are about a 10 minute drive from here. Most of those homes are found around Blolly Ham Bay...
Also Known As the Arch Beach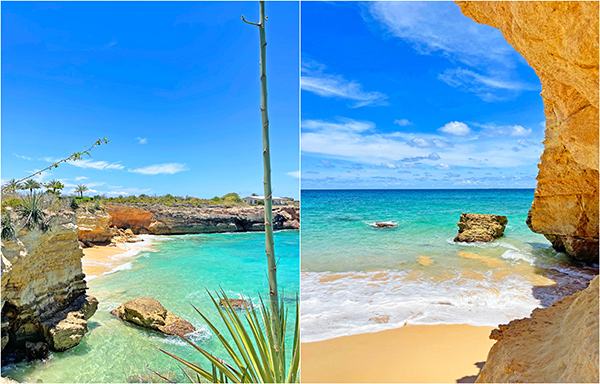 This mini bay is surrounded by dramatic limestone, making the sand here as gold as the sun.
The most popular villa here?
Kandara Villa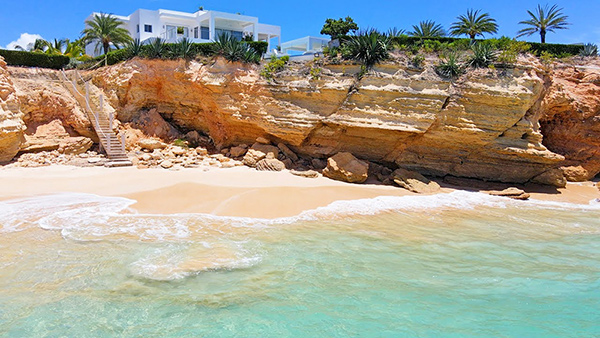 The 10,000 square foot villa was completed in 2021, offering the best views of the mini bay and sunset!
Since then, new homes have been popping up in the area.
Lower West End Point is an absolute paradise if you love seclusion! Parts of this area are completely secluded - so much so that we recommend driving this road in a Jeep! It is a bumpy ride.
No Paved Roads Here!

Contact Jackie Pascher because, depending on far out you want to go on the tip of Anguilla, this is real "No Man's Land." If you're up for installing electricity and bringing in a proper road, then go for it.
As we round the tip of Lower West End Point and go along the island's shore south we come across...
Sherrick's Bay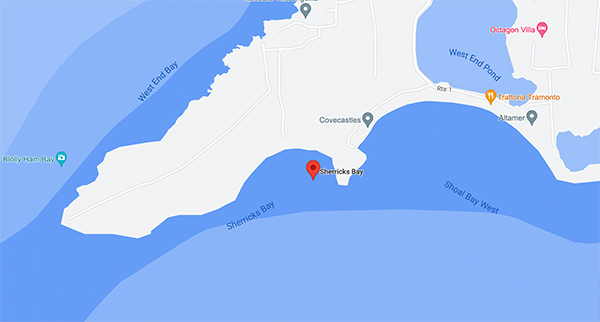 Sherrick's Bay's claim to fame was the Covecastles property. Covecastles had one villa, and the only building, right on Sherrick's Bay.
The Now Abandoned Covecastles Villa on Sherrick's Bay

The property is now abandoned, but the beach is ripe with opportunity.
Have you tried looking for Anguilla real estate on Shoal Bay West, but came out empty handed? Or perhaps you're seeking more seclusion? If this is the case then you may want to take a look at Sherrick's Bay!
Sherrick's Bay

The small stretch of white sandy beach with turquoise waters and stunning views out to the mountains of St. Martin always wins hearts.
We hope this mini real estate guide to the lesser known parts of Anguilla's West End helps give you an idea of what is available at a reasonable price. If you are looking to make West End your home, it's worth checking out these undiscovered areas.