Anguilla Sandy Ground Restaurants
Reggae Reef is now Dolce Vita.
Anguilla Sandy Ground is defined by its local community character and charm. The village is home to the Anguilla Sailing Association, the Department of Fisheries, and many places that have the power to please any palate.
Along the single, main road that runs through the town, you'll find the upscale restaurant The Barrel Stay, the inexpensive and always delicious Ripples, and the nightlife spot that supplies Sandy Ground with a spark after the sun goes down.
The latest to join the scene?
Reggae Reef!
It's on the main road, before Johnno's, but after The Barrel Stay. You won't miss it.
My Mom and Dad discovered this sandy spot early one morning for a breakfast of bacon, eggs, coffee and homemade Johnny cakes, all for only $8.
Their breakfast experience sounded ideal, right on the sandy beach and cheap!
They insisted we return for Reggae Reef's dinner menu...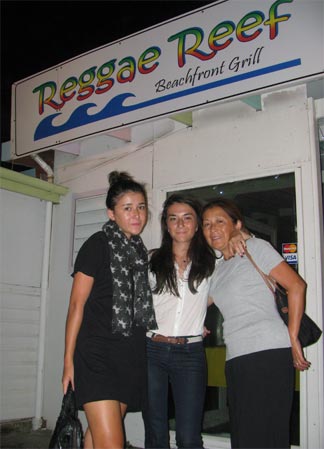 I had been to Reggae Reef only once before, just for drinks.
So you can imagine my surprise when Dave, one of the kind owners, remembered my face!
Dave's warm nature is complemented by his captivating, slow, Southern accent.
He's a sweet guy who always greets you kindly, making you feel so welcome, and ensuring that your needs are met when you're in his care.
He and his partner have established a cute and breezy beach bar. The building is mainly white, with pale pinks, blues and purples gently accenting certain walls and corners.
They have a semi-sheltered wooden terrace sitting right on Sandy Ground beach. Want to get closer to the water?
Reggae Reef thought of that too. There's a picnic table right on the sand!
As we were deciding on a dining spot, we saw a familiar face...
Jim Williams

Jim and Meredith are old friends from back in the 2003/2004 days! It was wonderful running into them and catching up. They were dining on ribs and fries that night on recommendations from several friends. Later on, I kept peaking over at their table... They sure did seem to be enjoying them! "Hmmm," thought Yuki.
We mosied over to the terrace and took a look at the menu... Lobster, ribs, seafood pasta, mahi-mahi, steak... What to have, what to have?
Jim and Meredith sold Yuki on the ribs, and the rest of us went our separate ways... the Angus strip for my Mom, fish for me, and my Dad was going with pasta!
As we sipped on our cold drinks, enjoying the cool, night air and the gentle lapping of the waves on the sandy shores, Dave brought us some warm rolls. It wasn't too long before our meals came, but Dave brought us more hot bread to enjoy with our dinner.
What a treat, normally Yuki and I are begging our Dad to ask for more!
Our waitress promised that everything was excellent. That was not a stretch by any means. The mahi-mahi was done just right, Yuki chewed those ribs down to the bone, my Mom polished off her steak and fries, and my Dad worked right through his mountain of pasta!
Reggae Reef has a different kind of low-key feel, but you really are at ease within the restaurant's down-to-earth, comforting walls. With a host like Dave, meals that are done just right, and low prices...
Reggae Reef had my parents back again no more than two weeks later with their friends!