Ellen Sag, from New York, USA, returned from her recent trip to Anguilla and was kind enough to send us her best Anguilla travel memories. Here's what she has to say...
One of my favorite days on Anguilla remains one of my first. I went to Scilly Cay with a friend. We didn't know about the music days vs. non music days I had read about it on the internet and wanted to go there. We went on a Saturday - I now know it's an "off" day for them sometimes - no music and not always crowded.
It was the two of us and one table of 4 the entire day. It was fabulous. We took a spot near the path to the beach where we could sit in the sun or shade and stare at the water and the colorful boats bobbing around.
We ordered lobster and watched as they went out in a boat and pulled up the lobster trap and brought our lobster in. As the chef cooked it he was singing some Bob Marley acapella. I'd had about 3 of Eudoxie's dangerous rum punches and been swimming a few times and I sat there and thought "this is paradise I don't ever want to leave".
(Nori's Note: Wow! I've just added Scilly Cay to our list of things to do on our upcoming Anguilla travels. We've yet to visit Scilly Cay, but this time it's an absolute "don't miss." And I'll be sure to warn my Dad about those rum punches!
And Ellen Sag was also kind enough to send along some spectacular Anguilla photos, too.)
A Beautiful Beach on Scilly Cay

Nothing but Blue Skies and White Sand... and Ellen

Some other best of Anguilla thoughts...

- Arriving and having the customs person welcome you back home!

- Walking Rendezvous Bay about an hour before sunset after visiting CuisinArt Beach Bar, Dune Preserve, Rendezvous Bay Hotel's Cedar Grove bar - your pick - but wherever you start out the walk will fill you with a wonderful glow that has nothing to do with the rum drink you just had.

- A day or sunset sail on Chocolat. Either experience is not to be missed. Capt. Rollins is wonderful and you see Anguilla from a whole new perspective and the scenery is breathtaking.

- Beach hopping - just get in the car and go to as many beaches as you can make and still swim and enjoy each of them.

- Lunch and a swim at Smokeys on the Cove when it's not too busy (avoid the day the boat comes in from St. Martin).

- A day out on Zippity Do Da the cigarette boat - never thought I'd enjoy a speed boat that much. You can see ALL of Anguilla (almost) and have plenty of time to enjoy each spot you stop at. Do Sandy Island for lunch, snorkle at Little Bay then running over to Shoal Bay East for drinks and fly back to Sandy Ground while the sun sets. You'll laugh your head off and your heart will explode with the beauty of this island when seen from the sea.

- Most of all enjoy the people, the locals and other Anguilla lovers like yourself - they are very special people and have helped make Anguilla my heart's home.

And Ellen takes photos as beautifully as she writes. Here are some more...

Flowers For You From
Rendezvous Bay

Why Isn't This Boat in the Water???

Welcome to Sandy Island
(See the Zippity Do Da in the background?)

Shoal Bay East...
In Spectacular Light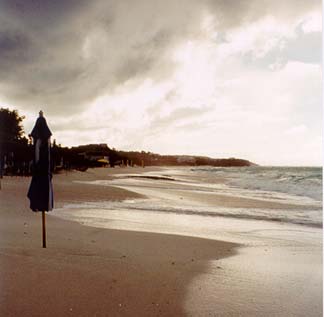 Great! Just absolutely wonderful... :) Thank you for taking so much time to share these wonderful Anguilla highlights in such a warm, memorable way.