<![endif]-->
The Perfect Caribbean Vacations
Morning Walk
Rendezvous Bay is one of Anguilla's best walking beaches. Two miles of soft, white sand beach create a flawless crescent with the warm, turquoise, Caribbean sea.
The best time to start your walk is in the morning, when the sun is low and not too hot. Ignore my Dad -- Mom makes him wear hats, he never brings water, and he'll go out at noon if we let him. Basically, if you do the opposite of my Dad, you'll be fine.
OK, properly prepared, park your car at the Cedar Grove Cafe, which is at the far east end of the beach. This nice little cafe is also where you will reward yourself with lunch.
As you step off the asphalt and onto the sand, you'll notice the first building on this "walking tour"...
The Rendezvous Bay Hotel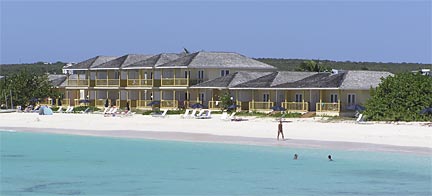 This charming hotel, one of Anguilla's original resorts, has received rave reviews and has a dedicated following. As you pass the hotel, keep your eyes peeled on something you won't see "up north"...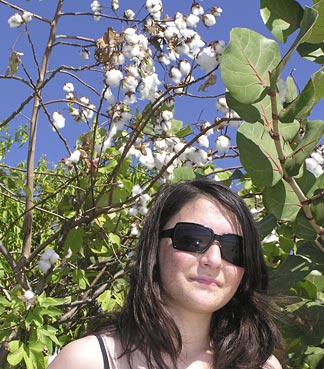 Cotton trees!
My Dad, being the zany explorer that he is, decided that he wanted to go around the back of the Rendezvous Bay Hotel, just to get a full look.
At the far end of the hotel, coming back to the sea, these delightful trees were there to greet us.
Sure, the cotton is pretty to look at, but taking this photo wasn't such a peaceful operation. The cotton trees are set further back in the brush. You have to step over and on leaves, rocks, and (my favorite) lizards, to "get the photo."
But back to our Rendezvous Bay walk...
Next up? Our favorite resort dinner spot.
CuisinArt Resort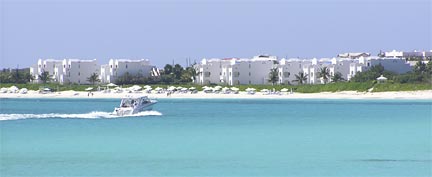 CuisinArt is certainly quite a majestic Anguilla resort, both inside and out. It has an excellent reputation.
My family's favorite part of CuisinArt though, certainly, would have to be Famiglia and Daniel Orr.
Continuing our walk, you'll notice a sudden change. While Cuisinart was built by the blender company, the funky world of Dune Preserve looks like it was built by a blender... random boat parts and reggae.
And the best part? It works!
The Dune Preserve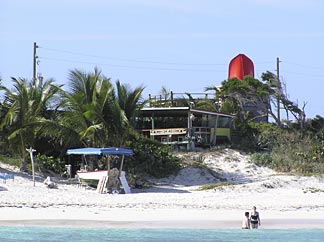 In the Dune Preserve you'll meet reggae legend, Bankie Banx.
Keep walking, you're nearing the end... and the best! You'll soon discover some rather unique Anguilla island architecture.
And notice the dunes. They are the only ones on Anguilla!
That's the whole two mile walk. But there's still two more to go. We have to get back to the car, after all!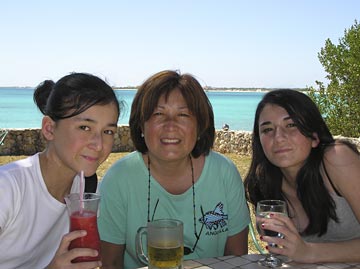 The good news is that it looks completely different from the other perspective.
Well, not really.
I'm just trying to be encouraging.
Here's the real encouragement...
You've earned a bite to eat!
After a truly rewarding Caribbean vacation walk, you deserve a pleasant lunch at the Cedar Grove Cafe.
Go for the tuna sandwich on baguette and plantain chips!