Anguilla Nightlife at Darvin's Place

Update 2018: Darvin's is closed.
Darvin's Place At A Glance
By: Kristin Bourne
Currently a top spot for enjoying Anguilla nightlife, drinks and dancing, Darvin's Place will be a go-to lounge when they begin serving tapas!
More on Darvin's, below...
While so many come to Anguilla to enjoy the welcoming hotels, the beaches, the food, with a goal of total relaxation... there are some who like a little nightlife too.
Anguilla may be a quiet island (except around Anguilla Carnival time), but there is still plenty to do if you are looking to get out and about and enjoy the culture and all that the island has to offer, not just the beaches.
Darvin's Place on Back Street in South Hill, Anguilla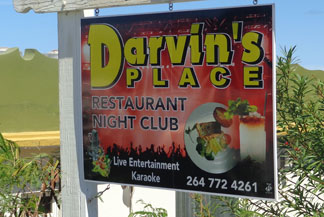 One of the newer places for nighttime entertainment is Darvin's Place in South Hill.
Those of you familiar with the former Deon's Overlook will know exactly where to find Darvin's Place, as Darvin took over Deon's old spot. A what a great spot it is!
Darvin's Place is on Back Street (the only true "one-way" street in Anguilla) and overlooks the charming beach village of Sandy Ground.
Darvin's Place overlooks beautiful Sandy Ground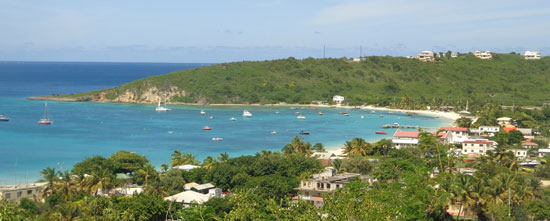 Find your way to the Anguilla shop Irie Life and then turn right on to Back Street (high above Sandy Ground) and follow that one-way road toward the East until you see Darvin's Place on the left, you can't miss it.
What Is Darvin's
Darvin's Place nightclub opened in late 2012 and has evolution plans as time goes on...
For starters, Darvin's Place opened offering cocktails and live music. Tapas will be on the menu in early 2013. Karaoke will be on hand too!
So beyond the great location and the view, what is another draw to Darvin's Place?
Darvin himself!
Who is Darvin?
The quintessential host, Darvin Mussington is an Anguillian singer who has been performing in Anguilla in many capacities over the years. He's from a family of musicians and entertainers.
In fact, his beautiful and talented daughter Deanna often joins him on stage.
Darvin and his daughter Deanna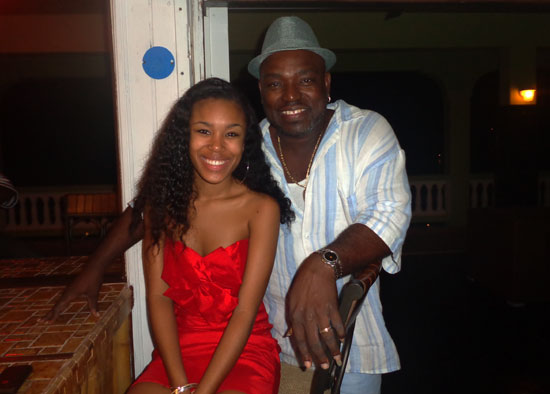 Darvin's Place provides live music or a dj on Fridays, Saturdays, and Sundays. Some evenings may carry a small cover charge of around $5 US, depending on the entertainment.
Take note of any drink specials, such as 2 for $6 beers.
Since opening, Darvin's Place has kept a steady line-up of entertainment and bar offerings to spice things up and everyone has responded positively to Darvin's Place so far.
They even had Gramps Morgan, of the popular band Morgan Heritage, on hand for an opening night performance!
Generally, the live music will consist of regional genres such as soca, calypso, and reggae. Anguilla is musically versatile and is to some wonderful natural talent so look to see a variety of muscial acts at Darvin's!
Inside Darvin's Place
For those wondering Darvin's Place layout differs from Deon's Overlook layout, it's not so different...
One side of the bar at Darvin's Place

You enter Darvin's Place through the same walkway and door, as you pass through the hallway, there is a door on your right to the air-conditioned room where the live music is set-up.
As you keep walking the bar is on your left and the open-air space with the Sandy Ground view is in front of you and all along the gallery to the right.
The ambiance is relaxing, the seating is comfortable, the people are welcoming.
Many gather on the gallery section to have conversations before returning to the "music room".
The stage and dancefloor (after hours)

This room has a couple sofas and some high top tables with barstools. There is room for dancing in front of the stage too.
I stopped in one night to hear some music prior to the official opening and I look forward to going back.
Once the tapas menu is in place, Nori and I will be sure to try it out and provide an update!
Directions, Hours & Contact
Directions: Darvin's Place is located on Back Street, overlooking Sandy Ground.
Darvin's Place
Good for nightlife and music.
Hours: Friday and Saturday from 8:30pm and Sunday from 7pm.
Tel.: 264-772-4261.