Frenchmans Cay Resort...
Right At Home In Tortola, BVI
Living in Anguilla sure has its advantages!...
Year-round warm weather, genuinely kind and caring people, and of course, interesting travel. Whether you're living here or vacationing for a longer period of time, many other Caribbean islands are just a hop, skip and a jump away. Caribbean islands such as Saba, St. Barths, St. Kitts, Puerto Rico and Tortola are only one short (15-30 mins.) flight from St. Maarten.
Tortola, BVI was next on our hit parade of islands to visit. Many visit the BVI's for the sailing and luxurious off-island resorts, but we wanted to feel the pulse of the true BVI's, the heart of the BVI's. (I also wanted to surf Tortola, some of the best waves in the Caribbean) So, we booked it.
After a short flight from St. Maarten, we arrived on a quiet Sunday morning. Julio, owner of BVI360, met us at the airport and drove us to our home for the next few days, Frenchmans Cay Resort. A wealth of information, he pointed out sites and historical facts along the way. It's no surprise he has a radio talk show.
Inside Frenchmans Cay
Frenchmans Cay Resort is approximately a 45 minute drive from Beef Island, where the island's airport is located. Set on Frenchmans Cay, a tiny island with a popular marina, the resort is made up of nine cottages with full kitchen, living room, patios, comfortable bedrooms and picturesque views of the island's mountains.
View From Our Unit at Frenchmans Cay

Our view overlooked a small channel and the mountains of Tortola. Other units (more on the island's south side) overlook Sir Francis Drake Channel, St. John and Peter Island, with more vast and open vistas.
Each unit is named after a tropical fruit. Ours? Lime.
Lime Villa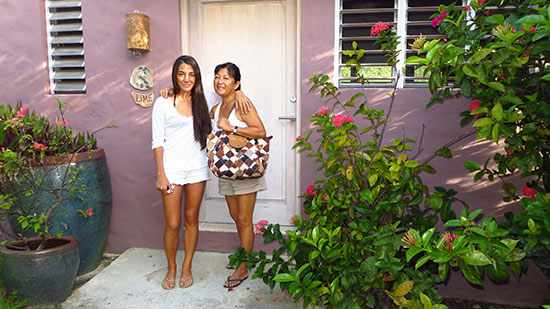 The resort has one bedroom and two bedroom cottages. We were in a split-level, two-bedroom cottage.
Into the front door and everything felt clean and fresh. The first floor is made up of the living room, kitchen and a small dining space. The living room has a flat-screen TV complete with cable, and the whole unit has WiFi.
Living Space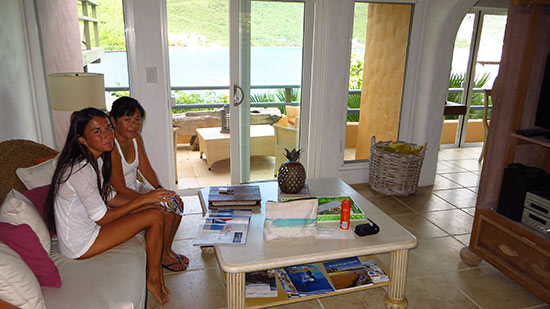 Free-standing, the units have everything to make you feel right at home, as if this were your very own condo in Tortola. Tastefully decorated, the feel is tropical and laid-back, and all is well maintained.
Kitchen

The kitchen is readily equipped with everything you need to cook and prepare meals in.
The living space opens up onto a patio with a coffee table and chairs. When we were first checking in, we didn't know it at the time, but my Mom and I would come to enjoy many nights in preparing tasty snacks and doing some light dining out on that patio with a bottle of wine.
Out on the Patio

One bedroom is located downstairs from the kitchen/living/dining area, the other is on the top floor. There is plenty of privacy between the two bedrooms.
Heading Downstairs

Downstairs Bedroom

Each bedroom has a safe, its own bathroom with shower, balcony with plushy outdoor furniture and a sea view.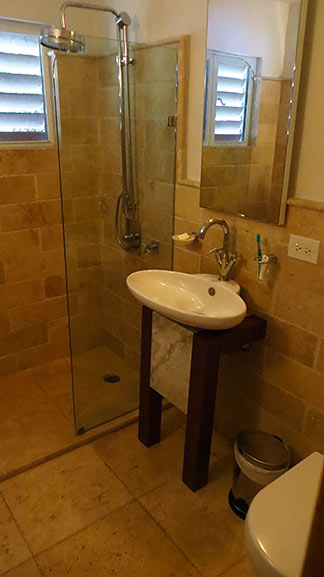 The bathrooms feature a spacious shower, complete with a rain shower head.
That rain shower head is really a luxury.
The shower also has a nice seated ledge built into it to comfortably place all of your toiletries.
There are more shelves in the bathroom, too.
I particularly liked the stone work, so rich adding charm, warmth and character to the bathroom.
I left the air conditioning off, and the slotted windows open, but you can leave the air conditioning on in your bedroom and leave the door between the bathroom and bedroom open, if you would like to cool things down.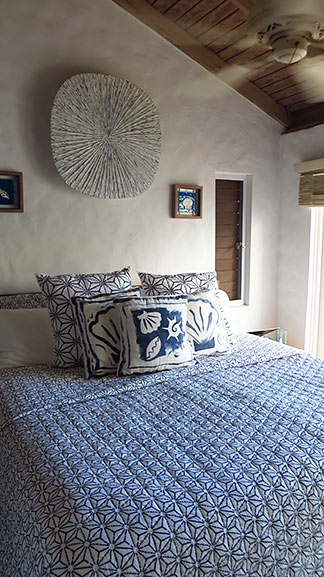 My parents slept upstairs where the views are especially pretty.
That elevation adds an extra something special.
Both bedrooms open up onto a balcony that overlooks the sea.
My Dad enjoyed taking in the afternoon sun and watching the pelicans dive for dinner.
Decor-wise, the feel is Balinese.
The bedding is comfortable and there's closets with storage space should you need it.
Well-acquainted with our unit, it was time to explore the grounds...
Down the path we went to see the rest of the resort.
Exploring The Grounds
As we walked the path, I noticed how much space there is between each villa. If you are seeking a more private resort, Frenchmans is an excellent choice. With lots of space and few villas on the property, the balance is right for those seeking to "get away."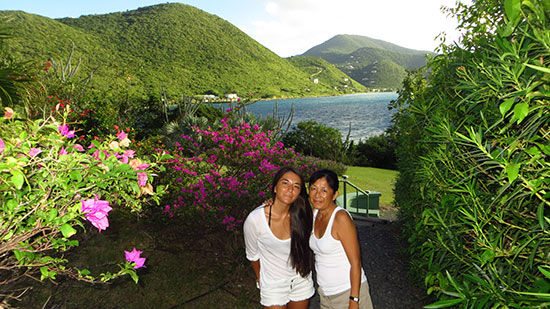 A self-contained estate, the resort sprawls over lush, green mountains with interesting cacti throughout.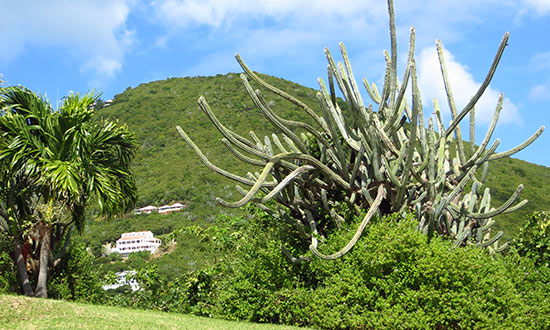 Reception is set inside the hotel's five star restaurant, The Clubhouse at Frenchmans.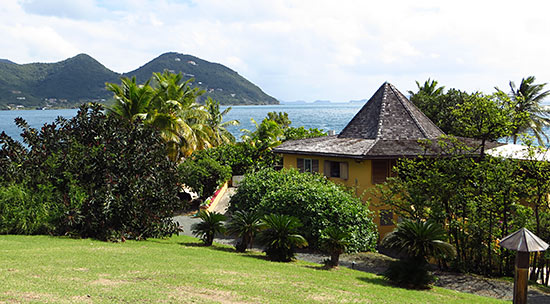 African-style with a thatched roof, it truly feels exotic. And, the meals are mouthwatering.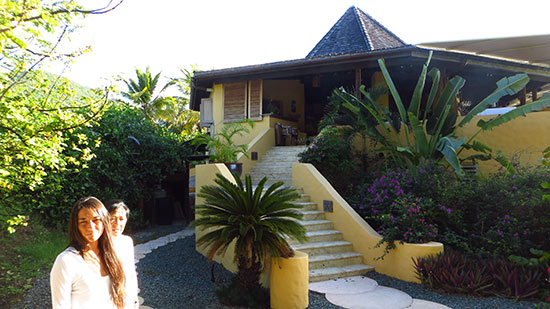 The restaurant overlooks a moderately sized pool and the ocean.
Just behind the The Clubhouse there are large tennis courts, too.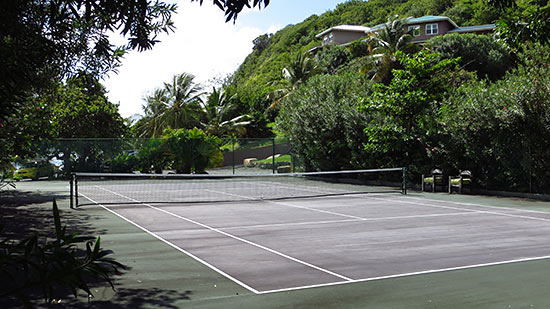 Not in the mood for tennis? Walk along the shoreline and take in the view...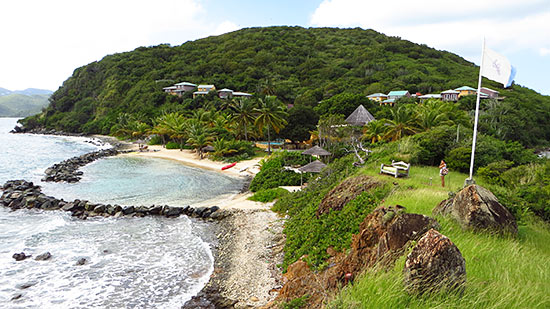 The resort has a little spit of perfect sand beach. The sand has been extended further into the property, creating a man-made beach. The beach area is complete with kayaks and loungers, and even has a shallow, protected area for calm wading, swimming, and my Dad's favorite, floating.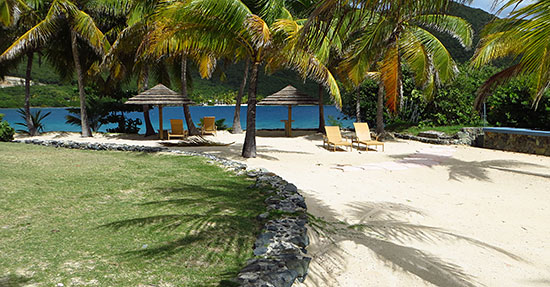 Even though the hotel was full, we only ever saw a couple of guests at a time, lazily enjoying the day. With only nine units, the property is never overwhelmed.
After exploring the resort, it was time to stock up our villa, have a snack and settle in for the day. Where do you do that? Just a 2 minute drive down the road, in town at Frenchmans Cay.
Frenchmans Cay
Frenchmans Cay Resort is set on the eastern edge of little Frenchmans Cay, itself situated on the southwest corner of Tortola, BVI.
Not far from St. John and St. Thomas USVI and Jost Van Dyke, another island in the BVI's, many ferries depart from here, and it's home to a big marina. Frenchmans is something to explore.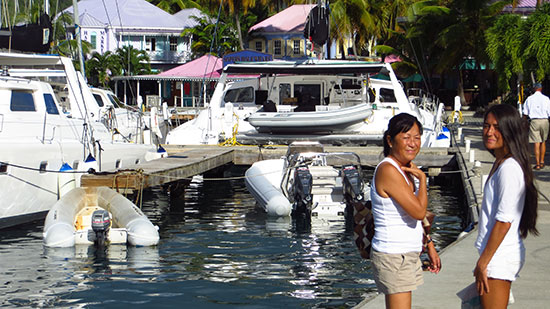 A scenic harbor, painted bright and inviting colors, Frenchmans is home to many sail boats, boat repair shops, souvenir shops and a couple of casual eateries, including the popular chain bar, Pussers.
A little walk in the sunshine and a few souvenirs later, we finally accomplished what we came for: grocery shopping at Frenchman's little market.
It was time to return "home," put our feet up and rest.
Nights in dining on home-made snacks made in our villa, enjoying them out on the patio, were only topped by one thing. What was that?...
A Perfect Start To Every Morning!
... Breakfast!
Now, one thing they tell you at check-in is that breakfast, served at The Clubhouse at Frenchmans Cay, is prepared daily and comes included in your rate. What they don't tell you?
Exactly what breakfast includes...
Bright Mornings Inside The Clubhouse at Frenchmans Cay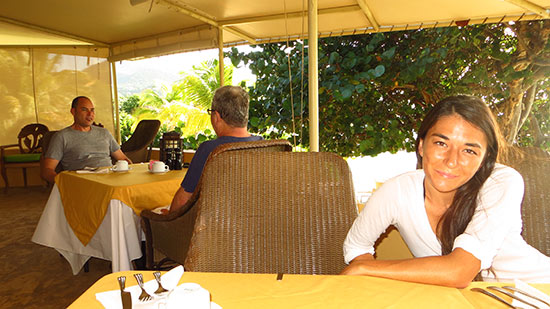 The Kitchen at Frenchmans Cay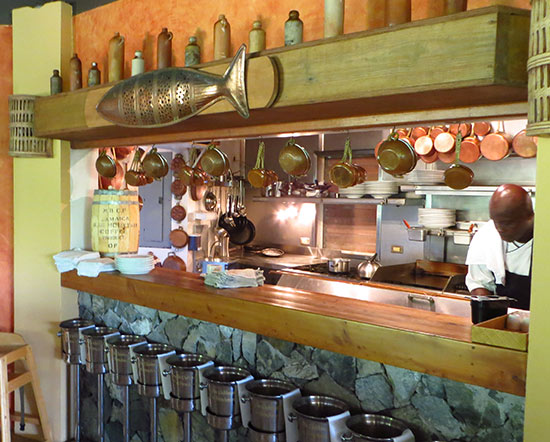 This is not your traditional continental give-away breakfast of cereal and croissants. Nor was it your standard buffet.
Each morning Chef and owner Paul Mason whipped up a special breakfast creation, prepared fresh that day. Think homemade bagels with smoked salmon and scallion cream cheese, hot steel cut porridge, scrambled eggs with sausage patties, oven baked julien cut potatoes, homemade English muffins and coconut French toast.
It's all served with a generous side of fruit, fresh-made juice (the type of juice changes day to day), pressed coffee, and with lots of love and care.
Warm and with a radiant smile, Lucinda lovingly works every morning, welcoming you and getting your day started on the right foot. Over our stay, we got to know her well.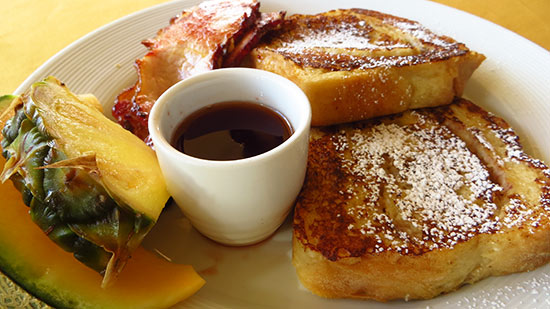 When we asked Lucinda about the breakfast she said that Chef Paul Mason could not bring himself to simply serve the usual breakfast. He set out to make each special morning, with a new dining experience and perhaps that would entice the diner to return in the evening for dinner.
It worked.
We reserved two nights at The Clubhouse. If breakfast was special, dinner was divine. Every single item on the menu was tempting. More on The Clubhouse at Frenchmans.
There is, of course, a catch. Breakfast is for guests only!
Chef Paul Mason, for that reason alone we will return to Frenchmans Cay Resort time and time again. ;-)
Well-fed and happy, from quiet evenings in, to bright mornings with Lucinda, we felt right at home at Frenchmans Cay Resort in Tortola, a special island. We will indeed be back. More to come on our adventures through Tortola.
Contact Frenchmans Cay Resort
Tel.: +1 284 494 8811
Official Website: Click here
More on Tortola