The Clubhouse at Frenchmans...
Fine French Dining With A Caribbean Twist
Typically, a travelers rule of thumb is to NOT dine at the restaurants at the hotel. But, that is quickly changing with some of the finest restaurants actually being IN hotels. For example, Anguilla's CuisinArt Golf Resort & Spa has become a culinary heaven for foodies with its five-star Executive Chef, Jasper Schneider. Creative and talented, value-wise, dining at CuisinArt's restaurants is on par with other independent spots on the island.
That is precisely what we found at The Clubhouse at Frenchmans Cay in Tortola, too.
Morning after morning during our stay at Frenchmans Cay Resort in Tortola, Chef Paul Mason (owner of The Clubhouse restaurant), prepared exquisite breakfast after exquisite breakfast. From homemade bagels and smoked salmon, to scrambled eggs with julien potato hashbrowns, each meal was different, creative and, of course, delicious.
Convinced of the quality, we booked two dinners at "The Clubhouse."
The Clubhouse At Frenchmans By Night
First, the setting is warm and pretty...
Under a wide, vaulted roof, thatched on top, everything about the building, and its furnishings inside, exude dreams of far-off lands. It feels tropical. Lit up at night, it sparkles and dazzles the imagination.
Lucinda, who serves breakfast at The Clubhouse in the morning, returns in the evening (the restaurant is not open for lunch) for dinner. She will take care of you along with Nathalie who tends the bar. Together, they make a delightful team. Warm, sweet and personable, they make you feel like family.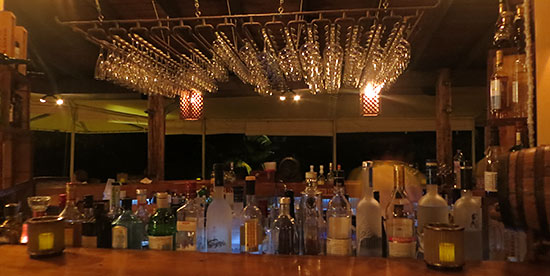 When we arrived, Lucinda greeted us, happy to see us for dinner.
Tip: Make reservations or show up early!
The Menu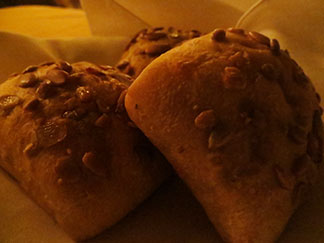 Nathalie brought us our menus and took our drink order.
She promptly brought us a basket of homemade fresh rolls topped with crispy seeds.
They were still warm from the oven.
Then, we took a peak at the menu.
The menu blends Caribbean flavors and that which is available locally with French flavor and inspiration.
With so many tempting choices, the menu had us in a state of indecision!
Appetizers...
Rosace of Smoked Salmon, house smoked salmon rolled with goat cheese and topped with capers and Bermuda onions, served with mayonnaise and rye toast
Island escargot en profiterole, which was local whelks simmered in a creamy roast shallot sauce in a curried puff pastry
House-made Charcuterie, which included duck pate champagne, free range chicken galantine, viande des grison (dry cured beef)
A variety of salads, such as mixed salad topped with white truffle oil and a queen conch salad served with tortilla chips
Entrees...
Smoked pork loin, applewood smoked and served with Alsatian braised red cabbage
Grilled swordfish served over "lobster coulis"
Roast spring lamb loin served with gorgonzola and cracked black pepper flan
Pina Colada drunken duckling, grilled and served in a pineapple, coconut and rum infused glace de canard
Yellowfin tuna Provençal, topped with fresh tomatoes, basil, garlic and olives
Supreme de Volaille Bressane, chicken simmered with tiger shrimps
Bajan grilled filet mignon, rubbed with fresh herb paste
Caribbean lobster marseillaise, simmered in saffron and fennel bouillon
Veal steak poelle, pan roasted with caramelized shallot jus lie
The Chowder

The appetizer menu was particularly enticing. I went with the "soup de jour," which was a seafood chowder and the local pork shu mai. The seafood chowder was creamy and rich, filled with large chunks of fresh seafood, with creamy and smooth potato mixed in, all garnished with crispy French bread.
It was so heavenly, my Dad and I ordered it again on our second dinner at The Clubhouse.
Local Pork Shu Mai

"Japanese style steamed pork dumplings with our spicy tamarind dipping sauce," the menu said. With a passion for Asian food, I ordered this appetizer for my entree. The flavors were spot on, as was the presentation, complete with bamboo basket and chopsticks.
Gateau Tiger Shrimps

My Mom had ordered the Tiger Shrimps Gateau, but once she had a taste of the Pork Shu Mai, she was hooked. We knew the dumplings had passed the "real test," when my Mom, a dumpling expert (her Japanese dumplings, gyoza, are some of the best!) oohed and ahhed over them. We each ordered this again the following evening.
The swordfish was calling my Dad's named. Medallions of swordfish, served over a "lobster coulis" and sprinkled with truffle infused toasted oats, the description was enticing to say the least. And, the taste lived up to it.
That first night we found our "favorites" and were already craving them again by night two.
Dessert is something we usually pass on. The only exception? If the meal has been truly divine, beckoning us to test the chefs' ability with sweet treats. And with caramelized banana crepes on the menu, how could we not?
Dessert Crepes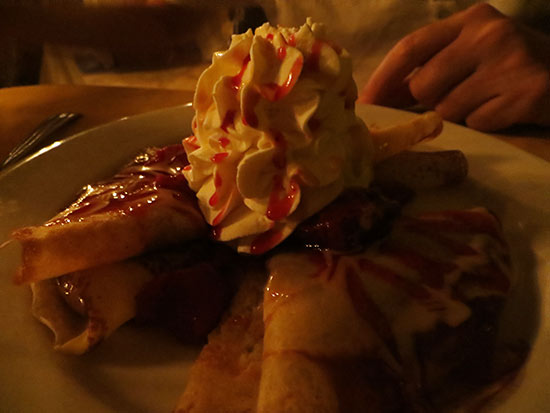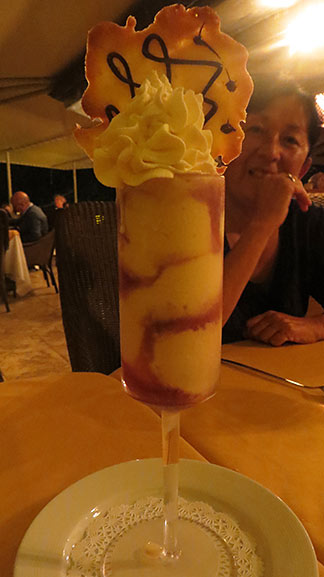 By the second evening, our bellies still heavy and full from the previous evening's meal and another sumptuous breakfast at The Clubhouse, we stuck to a simple ice cream for dessert.
Even that was not your standard scoop-in-a-cup!
In a champagne glass, complete with whipped cream and a light biscuit, it tasted even better than it looked.
Lucinda was laughing as my Dad held his stomach, "I haven't eaten like this in years!"
From the wine, to the appetizers, to the mains, to the final course, all was beyond palate-pleasing.
And, the price was right.
With an elegant yet certainly relaxed and laidback atmosphere, Lucinda and Nathalie put you at ease, making you feel right at home.
We discovered The Clubhouse for dinner late on our trip, and we regretted it. Little did we know the best restaurant in Tortola was under our nose that entire time. :-)
See you again soon, Lucinda and Nathalie!
More on Tortola