Karla's Grill & Bar at De Reef...
A Restaurant With a One of a Kind Location
Update 2018: Karla can currently be found in George Hill. She's open Tuesday to Friday 12pm-10pm, Saturday 7:30am-10pm and Sunday 8am-12pm.
Karla's Grill & Bar at De Reef At A Glance
By: Kristin Bourne
Sitting high on the sea rocks overlooking the Caribbean Sea and St. Martin's majestic mountains, Karla's Grill & Bar at de Reef is worth visiting for its unique location alone. Karla's warm and friendly company, and her tasty home-cooked cuisine completes this truly Anguillian experience!
More on Karla's, below...
Food and personality aside, when you speak about Karla's At The Reef restaurant in Anguilla, you need to think about Anguilla's topography to really appreciate that which the location provides.
This is the only restaurant in Anguilla with a high-up, close-up view of the channel of the Caribbean Sea that runs between Anguilla and St. Martin.
More specifically, Little Harbour.
Be careful not to get Little Bay and Little Harbour mixed up.. they are very different.
Little Harbour is located on the southern (St. Martin side) of Anguilla. While Little Harbour itself has a calm and sandy beach area, the area has a rocky coastline as well.
Karla and her husband, Pope, built The Reef on his familys' land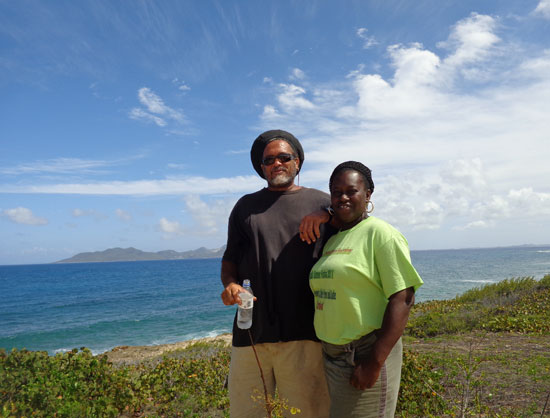 Anguilla's beaches are quiet, breathtaking perfection, yes, however experiencing the southern shore of Anguilla along the rockier coast is exhilarating and something most visitors may not get around to doing or feel adventurous enough to check out.
Karla's Grill & Bar At De Reef is your opportunity to experience this area of Anguilla and eat delicious local-style food!
Note: This restaurant is being referred to most often either as "Karla's" or "De Reef".
The turn to The Reef off of Jeremiah Gumbs Highway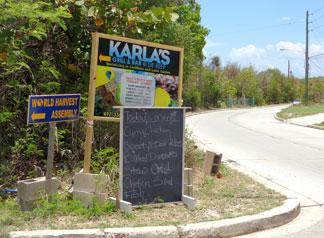 De Reef is easy to find if you follow the signs.
First, look for her large sign on Jeremiah Gumbs Highway.
It sits on the left if you are traveling on Jeremiah Gumbs coming from The Valley and going toward Blowing Point.
Follow these until you reach The Reef at the coast

After you would turn left off of Jeremiah Gumbs there are enough signs that will lead you to the restaurant.
Remember, you are making your way to the edge of the coast.
So until you reach, just look for the signs that say "The Reef" and follow the road.
The menu is just right for those looking to sample good, local, home-style cooking.
Karla changes the menu almost daily. Each entree comes with a side of your choice.
Sweet & Sour Ribs, Rice & Peas, and Papaya Salad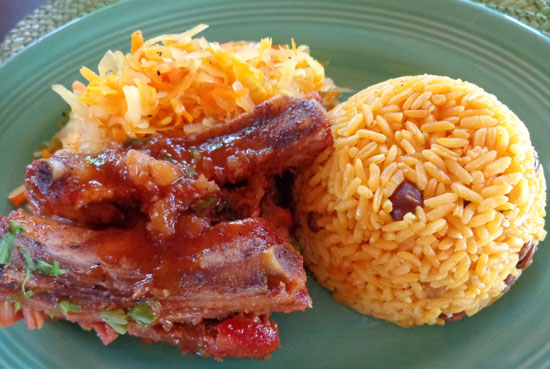 On my first visit the entrees were:
Curry Chicken $10 US
Baked Drumsticks $10 US
Sweet & Sour Ribs $10 US
Stewed Oxtail $12 US
Fish $12 US
Chicken Salad $10 US
The sides were:
Rice & Peas
Baked Potato
Green Salad
Cole Slaw
Papaya Salad
I chose to try the Sweet & Sour Ribs. I love rice & peas but I was curious about the Papaya Salad, so Karla allowed me a little of each.
Everything on my plate was delicious!
The ribs were unique in flavor as typically ribs are grilled and come with BBQ sauce. The rice & peas were full of flavor, which is nice because sometimes rice & peas can be bland, and the papaya salad was downright special.
Karla's cooking is terrific as it should be... her resume contains names such as Malliouhana, E's Oven and the former Cedar Grove at Rendezvous Bay.
Karla and I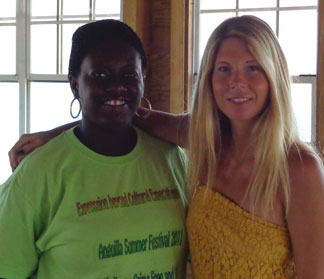 Karla presented me with a wet wipe after my meal, which I thought was a nice touch.
I must mention how nice her bathrooms are in the event the wet wipe isn't enough.
Across the parking lot you'll find a separate, new building that houses the bathrooms.
She and her husband, Pope, installed state of the art bathroom fixtures and even have automatic sinks and hand-dryers - this is a rarity in Anguilla unless you are staying at a high-end Anguilla resort like Viceroy, Cap Juluca, or CuisinArt Golf Resort & Spa.
Pope takes in some water and
the view from the sea rock seat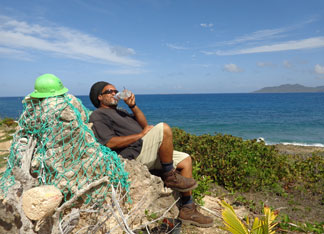 I encourage everyone to try Karla's. You'll find Karla and Pope to be welcoming and entertaining, as their personalities stand alone.
Also, before you leave. Be sure to check out the sea rock chair near the parking lot and take in the view. It is a special spot and Karla's cooking is the cherry on top!
Directions, Hours & Contact
Directions: Turn onto Jeremiah Gumbs Highway, and just follow the signs. It's that simple! :-)
Karla's At De Reef
Good for a unique sea-view and local food!
Hours: Lunch from 12-4pm Tuesday to Friday. She opens for night by reservation. On Tuesdays she has an all you can special with ribs with salad.
Tel: 264-583-5472 OR 264-729-0966