Day 2:
A St. Barts Vacation
Gustavia
The Capital of St. Barts, Gustavia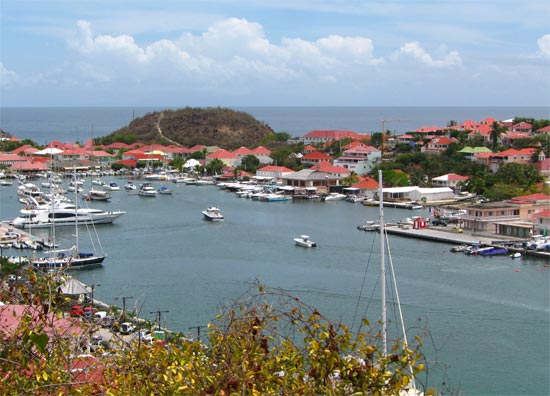 Gustavia is truly European with narrow, trafficked streets, bistros, and high-end designer boutiques. We waltzed down the main strip, "Rue du Bord de Mer" that runs parallel to the marina.
The air was hot and muggy, the sky overcast, but luckily the rain held off.
Before starting in on the endless rows of shops, we explored the port. The lagoon harbors some magnificent yachts...
How is that for eye candy? But Yuki still wanted to see the stores. Lacoste, Chopard, Louis Vuitton and Bvlgari all passed us by... I watched my sister's eyes widen! One street up on "Rue du General de Gaulle", you will find more privately owned shops that carry items imported from India, trinkets handcrafted in St. Barts, and rarities from France.
We strolled through Gustavia, noting that most of the buildings maintained the same architecture as our hotel: those red roofed, Caribbean cottages!
While they are Caribbean cottages by definition, they are much more refined and polished than buildings you see in St. Martin or even Anguilla.
It is as if the island has been airbrushed!
Still full from a breakfast of fresh fish, eggs, croissants and a basket of more danishes, we let the refined French bistros pass us by...
For now!
We would return for dinner.
Between shopping and sundown, we remained faithful to our daily routine: sun, swim, nap!
Today, however, my Dad rented a car. So instead of lounging around with that post-nap grogginess, we hopped out of bed, into the car, and started driving...
Exploring The Western End
Yuki chose a rental car that really fit the St. Barts vacation theme...
With the top down, we drove through Gustavia, then took off up the winding mountain roads!
There can't be too much reckless driving in St. Barts. The tight streets in town are the standard. The roads are not wider outside of Gustavia and St. Jean. If anything, more narrow!
How many times did my Mom cringe and beg my Dad to drive more carefully?
On the "Western" drive, the most memorable sites were seen from heights. We even spotted Anguilla! We were probably staring right at our home by Long Pond. On a clear day we can see the mountainous island, at night St. Barts glows in the distance.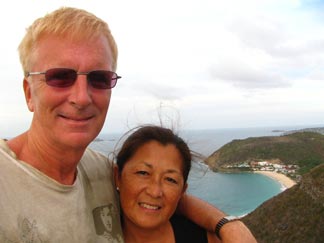 Anguilla
(St. Barts is Definitely More Interesting To Look At!)

Driving in a convertible on those roads was liberating!
My favorite excursion on this part of the St. Barts vacation was Inter Oceans Museum, just across the street from the beach in Corossol, just west of Gustavia...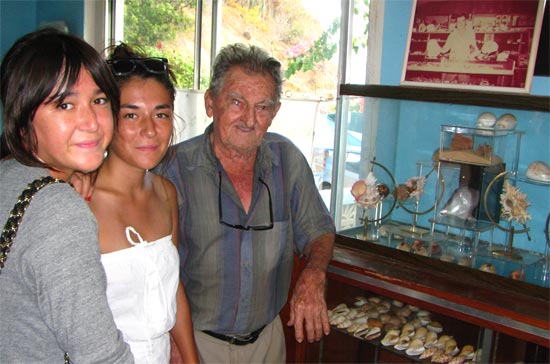 Ingénu Magras owns the museum. He has been collecting shells all of his life, and has over 9000 pieces, thousands from around the world, not "just" the Caribbean.
Have You Visited St. Barts?
He is such a kind gentlemen with fascinating stories and facts. In the photo above, behind the case, he had an oyster creating a pearl. He explained the process, and took us on a personal tour of the museum, pointing out more rare sites and cases. We had caught him right at closing, but he opened back up for us. What a treat!
The visit felt less like walking through a traditional museum and more like you were spending time rifling through your grandfather's basement...

His shells were extraordinary, but I liked the different fish he had preserved along the walls of his establishment.
The hammerhead shark was particularly intriguing!
That was not all. He had a baby shark preserved in a jar, barracudas, even a sea turtle from the Orient.
It is a true passion of Mr. Magras'.
We chatted for a while...
He was born in 1921 in St. Barts, and has lived there all of his life. He talked to my Dad about all of the changes he has witnessed.
What history!
Already having taken too much of his time, and tummy's growling, we returned to Gustavia for a quiet meal on the water.
Day 3: Click here for the final leg of our St. Barts vacation