Day 3:
A St. Barts Vacation
The Final Drive
It was the last day of our St. Barts vacation!
Yuki and I choked back the tears. Eating and crying are difficult to do simultaneously, and we had to make the most of our final breakfast. We were going to miss Eden Rock Hotel, the views, the pool, the smoked mahi mahi... Sigh.
Breakfast in our bellies, bags in tow, we checked out, leaving the luxury villas behind, and were back in the BMW in no time, setting off for the Eastern end of the island.
We waved pulled out of Eden Rock and moved on...
The next beach over from St. Jean is L'Orient, stop #1.
St. Barts' beaches are so picturesque, each one a perfect, sandy crescent, with breathtaking scenery. It is an island of true beauty. Its beaches and the beach goers!
We continued towards Marigot and Grand Cul de Sac, stumbling upon more picture-perfect sites...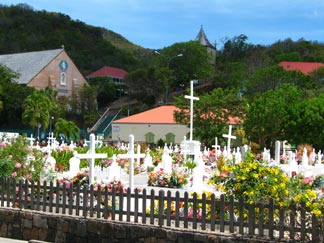 As we coasted along, we reached one area that had me in awe...
Maybe it was a warmer, drier, sunnier period in the afternoon, but I was stunned speechless by the beauty of Toiny. Its arid land, with beds of volcanic rock and clusters of tall cacti were stunning, particularly because unlike Anguilla, it's not stretched flat across miles of desert.
The terrain is desert-like, but it coats the mountains!
All of St. Barts has such terrain, but in Toiny it was truly magnificent. The mountains were a light earthy tone, kept hovering on your right, as the convertible cruised down the highway, roaring ocean on our left.
Of all the sites seen, meals devoured, and items purchased, nothing could top that moment on that drive!
Sadly, it wasn't long before we reached a dead end. There was work on the road ahead. Unable to go any further, we turned around, airport-bound.
Au Revoir St. Barts
It was Labor Day in St. Barts that particular Friday so most shops and resataurants were fermé. The only spot we saw open was a road-side snack bar next to the gas station, across the street from the airport.
Definitely, the only country where you can get mouthwatering "coquilles st. jacques" and pump gas in the same few meters! Palates pleased, we handed the automobile over to Budget and boarded the plane 20 minutes early.
There is more than one advantage to being the only ones on a flight. The pilot even remembered us from the ride over!
Returning to St. Martin

Our St. Barts vacation was truly special. Many Anguillians and people vacationing in Anguilla visit St. Barts for an afternoon or one night, but three days was perfect. We had just enough time for sunning, shopping and a little exploring. The vacation was exactly what our family needed!
The steep, narrow driving was tedious, and I don't know how people can afford to spend $8 USD on a jar of Nutella, weekly, but my Mom, Dad and I loved St. Barts. It was really "Yuki's island", though. She wants to live in France when she's older, so it's no surprise. St. Barts is a chunk of France that just happens to be in the Caribbean. And as in France, Yuki adored the architecture, the designs, the furnishings, luxury villas, shops and fine dining.
Everything and everyone is flawless, charming and beautiful.
Like my Dad says, "home is where your heart is, but vacation is where your computer is not". St. Barts is a wonderful vacation spot, but Anguilla will always be home.
Your St. Barts Vacation
I love hearing stories of voyages to other Caribbean islands. They are so exotic! Have you traveled to St. Barts? For a day? Two days? A whole week?

I would love to hear about your travels to the land of luxury!