An Elegant Breakfast
At Anguilla's High-End Altamer Resort
Update: Altamer's restaurant has closed.
On our first few trips to Anguilla, the island's restaurants only really served two meals.
Lunch and dinner.
Three meals a day on Anguilla's fine dining, would have been heaven, but delectable breakfasts were simply non-existent.
However, in recent years, the most delicious bacon, eggs, pancakes and French toast, have popped up in restaurants all over the island!
The Roadwell Cafe, yum!
Tasty's, double yum!
Deon's Overlook, three yums waaaaaay up!
Three words to encapsulate the essence of these restaurants... Delicious. Affordable. Casual.
But sometimes, at a 9:00 A.M. breakfast, you want to be treated like royalty, immersed in a luxurious environment. Paying the hefty bill at the end of the meal is no happy ending, but if service is A+ and the food is tasty, tasty tasty, $12 eggs can be worth it.
So, what's the best posh Breakfast bet?
Altamer Resort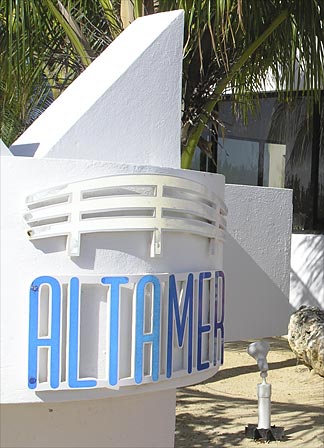 The ritzy Altamer Resort sits on the Eastern tip of the equally prestigious beach Shoal Bay West... Yes, the very same beach that Denzel Washington calls home on Anguilla!
An air of elegance is obvious upon glancing at Altamer...
Altamer Resort


White, crisp walls.
Lush, green gardens.
All set against Anguilla's perfect blue seas.
And when you enter the elegant restaurant?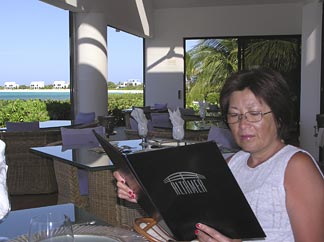 The interior certainly lives up to the exterior's refined beauty!
But, without over doing it.
The restaurant isn't so incredibly fancy that you should plan on wearing a jacket and tie to breakfast.
Phew!
As you enter the fine establishment, you'll notice all elements of elegance.
Classical music streams through the restaurant's stereo.
The aroma of fresh coffee fills the warm, Caribbean air.
A hostess meets and seats you, in good time.
Service is impeccable!
We were handed menus and placed our orders.
My sister ordered the French Toast, I went with French crepes, and my parents ordered "Chef Leduc's Specialty", Shirred Eggs Jambon.
We sipped our coffees and freshly squeezed orange juices, and gazed at Shoal Bay West's spectacular shade of turquoise, as we waited for our breakfast in such a serene atmosphere.
We could see Cove Castles across the way. Was that Denzel in his window?
Was he waking up and heading over to Altamer for a delicious meal?
Unfortunately we didn't dine with Denzel, but those dreams dissipated and were forgotten once our food was placed in front of us.
Yum!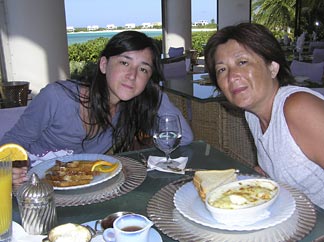 The crepes I ordered were light and tasty, with only a little bit of sugar and lemon used for flavoring.
My sister enjoyed her French toast, not even letting me steal one bite from her plate!
As for Altamer's specialty?
The Shirred Eggs Jambon were two eggs baked in a casserole with ham, cream and Swiss cheese.
Delicious!
Of course, Deon's Overlook still gets our vote for the best of the best breakfasts in Anguilla (or the Caribbean, or even the world, for that matter!)
But, if you're on the hunt for an upscale breakfast, Altamer certainly does not disappoint!