"A Burger"...
Anguilla's Premium Burger Joint
A Burger At A Glance
A Burger specializes in fast food favorites like burgers, fish burgers, grilled cheese and cheese fries. Made fresh daily, it's delicious and a little more nutritious than your typical fast food joint. ;-)
Fall 2014 Update: A Burger is closed for the time being. We will keep you posted on if/when they will be re-opening.

Spring 2014 Update: A Burger is now open for breakfast, too! What do they serve in the early A.M. (starting at 7am)? The breakfast menu includes fried Johnnycake (with a variety of toppings including jam, cheese, egg salad, saltfish), fishcakes, a breakfast sandwich (of fried egg, bacon, lettuce and tomato), burritos, quesadillas, fresh fruit and yogurt.

And... In addition to their South Hill location, they have opened another spot in The Valley!
More on A Burger, below...
Our family has a long-standing history with Anguilla burgers.
Our quest for the best burger began in the early 2000's when the establishment that served our all-time favorite burger, Le Bar, closed its doors. Stuffed with a blend of zesty herbs, Le Bar's burger was unique. It would be hard, if not impossible, to beat.
We chewed through burgers of all kind in search of that bite of juicy ground beef that would scintillate our taste buds. Like a mirage emerging from the sand, we found it on a quiet afternoon at Ferry Boat Inn. Since then, a few contenders for "Top Burger" have popped up, including Blanchards Beach Shack, and one of my Dad's favorites, Roy's Bayside Grill.
Now, the competition is getting serious...
Welcome to "A Burger"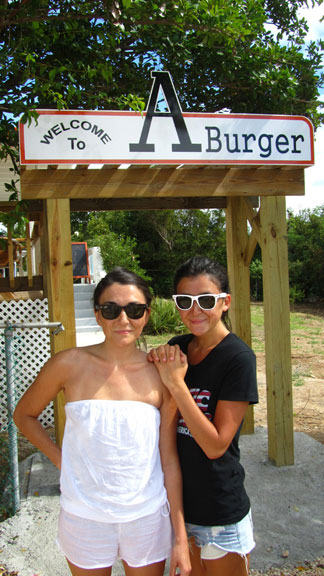 Located where Anguilla's main road meets Spring Path Road (just past Geraud's bakery if you are driving West) sits Anguilla's only burger joint.
In a charming red-roofed, white-walled building, "A" Burger has a comfortable, familiar feeling that makes you feel right at home.
There is a large outdoor deck space, and garden space too.
Upon entering, as we approached the tiled counter to order, we were greeted by Mitch Lake, owner, operator and a friend of our family.
He was beaming, eager to give us tour of the kitchen and the operations.
"This isn't your average burger joint," he assured us with a smile.
How It's Made!
His enthusiasm was contagious! We followed him into the back kitchen to see what goes on behind the scenes...
The Grinder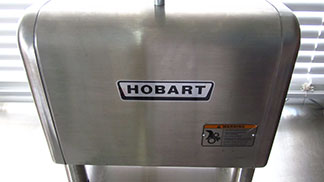 A Burger uses only Grade A Angus chuck beef, 100% natural, which is ground fresh daily for the burgers.
They are the only restaurant that grinds their own beef for burgers!
Chuck Beef Becomes Ground Beef

The buns are so light and fluffy too, baked daily at a local bakery.
While a burger should be measured on its own merit, you can't have a burger without fries! And A Burger's fries are extra special. They are hand-cut daily and fried twice in Canola oil, just like the famous Belgian fries.
French Fries


Appetites whetted, it was time to place that order. Four burgers and fries coming up!
A Burger's Spotless Counter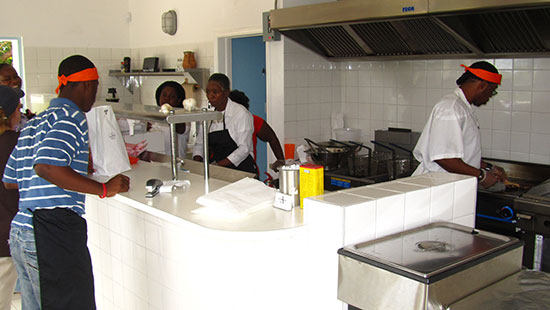 Sure, A Burger has other items on the menu, but at a place called "A Burger," how could we not get the burger? ;-)
Other menu items include...
Burgers: "A" Burgers with cheese or bacon, Fishburger
Hot dogs: (100% all beef) Cheesedog, Chili dog, Chili cheese dog
Other: Grilled cheese (officially called a "melt"), "A" Bowl of homemade chili, Jerk chicken salad, Fish 'n chips ($10 and comes with coleslaw), Corn dogs ($2), Chicken wings ($4 and available on Fridays)
Sides: Seasoned fries, Sweet potato fries, Chili cheese fries, Coleslaw
After placing our order, we took a seat on the large wooden deck under the natural, cool shade of A Burger's trees. Not too long after ("A Burger" can be considered a fast-food Anguilla restaurant), our order was brought out, and we were sinking our teeth into an A Burger...
Yuki and Mom chowing down

Dad's Double Burger!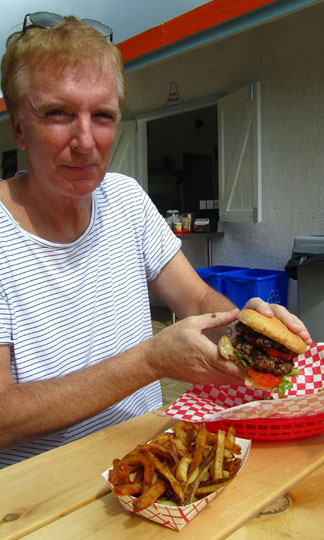 We were not disappointed.
The burger was thick, juicy and slightly spiced.
The fries were my personal favorite part, so light and crisp. The true definition of a French fry.
My Dad was more than satisfied with his double burger, served with pickles, onions, lettuce and tomatoes.
Burger joints, whether they are nation-wide chains like In-N-Out Burger or Shake Shack, or local one-of-a-kind as seen on Diners, Drive-ins and Dives type spots, burger joints always generate fierce followings, and opinions.
"A" Burger is no exception to that rule. Many love it.
What about the non-burger menu items, you may be wondering?
If you are with a group going to "A" Burger and not a "burger person", never fear!
Their other menu options are quite popular...
"A Burger's fishburger and sauce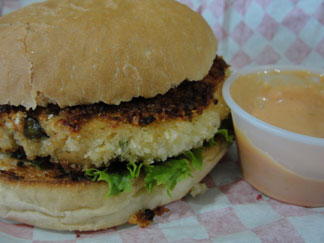 The fishburger has been a hit.
It's not a fish filet on a bun, mind you, but more like bun filled with a crabcake-like patty which is decent-sized, full of flavor and topped with lettuce and tomato.
The sauce served with the fishburger is scrumptious too, not your typical old tarter sauce. Another non-burger menu favorite is their jerk chicken salad.
On return visits we have also tried the corn dog and the chicken wings.
Burgers & Corndogs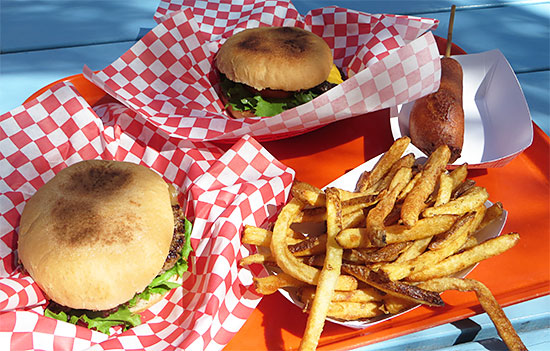 Both are outstanding, especially the wings!
The meat is tender and succulent, cooked to perfection. They come with your choice of barbecue, blue cheese or honey garlic sauce. They are a steal of a deal at only $4 per order.
Last but never least, the grilled cheese (or, as A Burger calls it, their "melt"). This is quite easily THE best grilled cheese I've ever had!
Can you tell I'm excited to be eating A Burger's grilled cheese?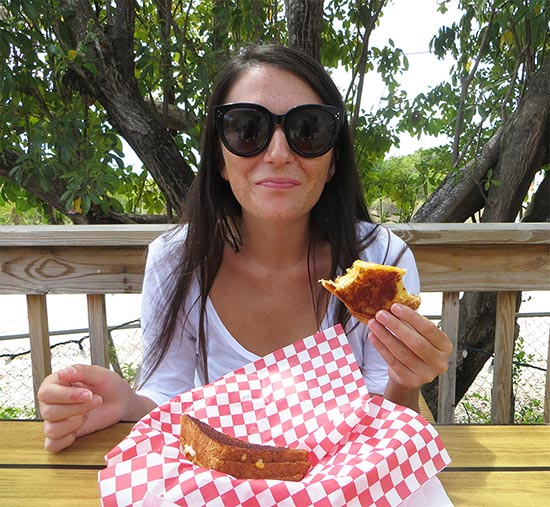 A triple decker, this sandwich oozes cheesy goodness. The bread is the key here. It is made on Geraud's (one of the best bakers on the island) soft yet rustic bread. My mouth is watering just thinking about it.
The Concept
Mr. Lake joined us for lunch, telling the story behind "A" Burger.
He recounted how feeding Anguilla's population the highest quality food at an affordable price (one "A" burger is $5.95) was the motivation behind "A" Burger, a.k.a. Anguilla Burger.
The life and spirit of Anguilla has been breathed into every aspect of this Anguilla restaurant.
It is shaped like an Anguillian home, with plenty of deck space so guests can enjoy their meal outdoors much in the same way as Mr. Lake enjoyed meals at his Grandmother's home as a youngster.
The larger trees and bushes were intentionally left in place to act as a natural shade for the patio.
Mitch Lake and I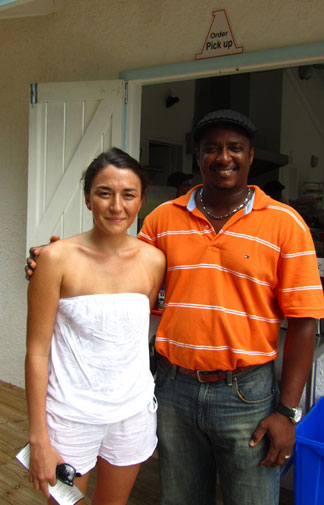 He explained the purpose of the garden, too. It was designed to be an area for your pet!
This may be the first voluntary "pet-friendly" establishment we've seen! If you live in Anguilla or travel with your pet, this is a great place for the whole family.
"A" Burger is really all about serving quality food, and Anguilla.
They are proud supporters of Anguilla's Blossom Centre, a non-profit school for special needs children.
In fact, while we were there they were selling beautiful and delicious cupcakes at $2 each to support the foundation (The Arijah Children's Foundation) which funds the Blossom Centre.
"A" Burger is not to be missed. It is opened Monday-Saturday, 11am-7pm. Look for the red-roofed house on the road next to Geraud's Bakery in Lower South Hill. You won't be disappointed, especially if you're in the mood for a quick and tasty burger.
Directions, Hours & Contact
Directions: A Burger's South Hill location is located just off of the main road, just passed Geraud's. Its Valley location is located in the same lot as the People's Market right in the center of town.
A Burger South Hill
Good for burgers, grilled cheese and fries.
A Burger The Valley
Good for burgers, grilled cheese and fries.
Hours: Open daily for breakfast and lunch, closed Sundays.
Tel: 264-497-3535