(Pssst... Click the photos to open a larger image!)
Christi Scofiel
The perfect end to a perfect day! A wedding toast on Meads Bay at sunset behind the Frangipani Resort.
Lovely people and absolutely spectacular beaches! We so hope to make it back this year to celebrate our 5th anniversary!

George
Our first family vacation to the Caribbean was Anguilla. Anguilla to us means calm and peaceful where the magic brought our family together.
It is the island where your mind simply unwinds and gives in to its surroundings. My wife and I enjoyed the day and night and our boys had the time of their lives!

Eileen Sepesi
What's happening? Absolutely nothing. My daughter first joined us in Anguilla when she was just 15. I will never forget how she and her friends instantly fell in love with the island as much as I was.

HERNIOTE KARINE
We really wanted to visit this must see beach and rented a car to visit it with our two young children aged at the time (last year) of 3 and 1 years old.
If was really a memorable moment, with the sun set and almost nobody on the beach, except the 4 of us.

Jeff Zeaman
The year was 2004, it was our 10 year anniversary and I wanted this vacation to be special. I happened to be reading A Trip To The Beach and becamed intrigued about this tiny island that I have never heard of. I surprised my wife and son only telling them that we were going away to a special place to celebrate our 10 years of marriage.
Our plane landed in St. Martin, then we walked arcoss the street to a dock, hopped on a charted boat and there infront of us was Anguilla. We docked right infront of the beach at beautiful Cuisinart, rolled up the bottom of our pants, took off our shoes, got into the very shallow water and walked onto the beach and up to the hotel lobby.
Talk about special, and that was just the beginning. For the next 7 nights we realized that everything and I mean Everything is special in Anguilla. The people, the hotels, the restaurants, the beaches, and the atmostphere.
Anguilla was not just another island, it was paradise. No other island has or can Ever compare. On our last day of our trip I told my 2 1/2 year old son to take a good look around and save this special place in his mind and never forget the amazing time we had.
That is him (Daulton) taking his look around and putting this special place in his memory. On the plane ride home we all promised each other that this will be our home island, and we will return every 2-3 years.
We have never broken our promise. We have made great friends over the years in Anguilla. Also great memories that will last a lifetime.

Jennifer Kaufman
From the first time we stepped foot onto Anguilla we knew we had found a very special place. There is something very unique about this beautiful island that draws our souls to it.
Back in the states we are living our crazy lives working in the corporate world. With all of the emails, phone calls, meetings and deadlines we dream about our next trip to paradise.
Ahhh I can feel myself relaxing as I sit by the infinity pool sipping a cold drink watching the beautiful sunset while listening to the waves crash onto the secluded beach we call Lover's Cove.
Kelly Lauzonis
Immerse yourself in a world of solitude where every wish is your command.
Sit back and relax on breathtaking Turtle Cove Beach, you can't help closing your eyes and having your ears caressed by the waves as they gently fall onto the pristine white sand. Open your eyes now and let your brain be tickled by the sheer beauty of the turquoise waters that lie before you.
This is my heaven. Have you ever LISTENED to paradise?
Kelly Szymanski
There is no greater joy for a little boy than to roll in the sand, soak up the sun, let little boy worries go by, and simply fall in love with AXA.
Beyond the beaches lies more of the spirit of Anguilla – it's history, it's culture, the things that matter to those who call it home and to those of us who come to share in the wonder of the island.
Kristin Nicastro
How can I put into words how much this place means to me?... Or describe how it makes me feel? It's not just the tranquil crystal water or the baby powder sand that sets it above the rest.
It's the bond this paradise creates between those lucky enough to have journeyed to this perfect island.
Kristin Pepe
Anguilla is our little slice of heaven on earth, our happy place. We feel pride in being able to visit such a beautiful place and long for our return.
The first vacation my son was on was to discover paradise and the typical crankiness of an infant was not seen once in our 7 day stay. Even an infant can feel the peace that is found on Anguilla.
Lauren O'Donnell
Since our first trip to Anguilla in 2009 my sister and I jump in the pool as soon as we arrive to our destination with our clothes on!
This picture captures my sister jumping in and hoping to splash our Busha in the process! (Busha later jumped in the pool in her clothes to celebrate her first trip to the Island!)

Les and Jennifer Huffman
From the moment we boarded the Anguilla Air plane and touched down on this beautiful island until we boarded the ferry back to St. Martin, Anguilla more than exceeded our expectations in every way!
When searching for the perfect place to celebrate our 10th wedding anniversary, we were looking for a beautiful beach, low-key atmosphere, low tourist type location, and great local people. Wow, did we hit the jackpot!!
Linda Stern
Waves crashing
Wind blowing
Palm trees swaying
This is Anguilla.
Hot, glaring sunlight
Beautiful white crested waves
Gentle
Docile
Agile
Are the waves.
Drowsiness tugs at my eyelids
I close them and
Sleep
Sleep
Sleep
I wake up in the hot sun
Feel the sand cooking my feet.
Then off I go
Home to sleep.
Until tomorrow.
"Anguilla Allure"-By Ben Covello Age 12

Lisa Carroll
I love this picture. When we went to Anguilla, it was definitely a worry for my Mom since Dad is so fair. We loved the beautiful beaches, the crystal clear water with many shades of blue, so we went with plenty of sunscreen.
As you can see, Dad got more than enough cover and we all enjoyed our trip very much. Mom is ill with leukemia now, and I would LOVE to win this trip so we can go back, one last time, and create a beautiful memory since she loves your beaches so much.
Michele Enlow
This picture was taken on our honeymoon from our suite at Cap Juluca on the amazing Maundays Bay. This was where we fell in love with the tranquility wrapped in blue.
All I have to do is look at this picture and it transcends me back to the most beautiful island in the Caribbean.

Mishi Clauberg
This is Meads Bay at Malliouhana. We first came to Anguilla in 2007 for our Honeymoon and I can't imagine a more perfect place on Earth.

Nicky
My husband and I visited Anguilla for the first time on our honeymoon and have been back twice since our first trip.
We've fallen in love with the people, beaches and food and dream about our next trip to the Island. This photo was taken during our honeymoon at Rendezvous Bay. We couldn't get enough of the water!
Sandy Dennison
This picture of our now newlywed friends that we travelled with, to Anguilla twice. They are the picture of love, relaxation, and more beauty.

Scott Bienenfeld
For our 10th anniversary, my wife surprised me and secretly arranged for a justice of the peace to renew our vows overlooking the sea.
It was a wedding I will never forget!
Somehow, getting married again in Anguilla had a special poignancy that is with me to this day.
I love you baby and thank you for such a meaningful gift!

Suzanne Schoenfeld
This photo of my son was taken at Scilly Cay some years ago and highlights two of our very favorite spots on the island. We began visiting Anguilla before he was born and he has grown up going at least once a year, each visit a little taller and more grown up.
Vincent Nijhof
Anguilla is an island of love and romantic moments. We fell in love with the island and each other.
Everything is romantic on this island, from the beaches to restaurants.
Not to mention, the people of Anguilla are the most friendly on earth.
Share the experience with some special. You deserve it!
These photos are taken on one of the most beautiful beaches from the world, Shoal Bay.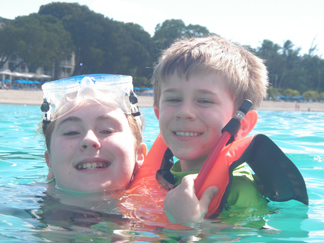 Mike Tetreault
Have you ever have one of those "perfect moments"?
The point in time that every care and concern in the world melted away? That was our day at Little Bay.
I took the kids snorkeling. We got to see all sorts of fish, urchins, and even turtles.
Hearing the laughter of my children and the sound of the surf, punctuated by pelicans diving for their lunch, the rest of the world was shut out and we enjoyed our perfect moment.
Alicia Felder
XMAS in Anguilla is the best thing ever! This photo symbolizes what our family experienced our first time in Anguilla and what we think of when we remember Anguilla- pristine quiet beaches, unbelievable sun scapes and rainbows, fantastic weather and good times!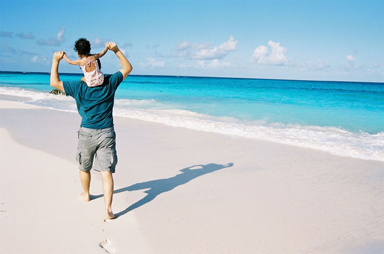 This picture was taken on Meads Bay in Anguilla. Anguilla is not like any island- it is great for adults and children!
Calvin Bartlett
Shoal bay Anguilla our favorite beach brings back found life time memories. Vacation time – family Q time weddings and the desire to return to spend more time on the beach with family and friends.
Enjoy the local dishes and while listening to the sound of music while watching the children play and waves role in and out the beach.