(Pssst... Click the photos to open a larger image!)
Claire Trenkle
On one day, we viewed a boating regatta coming around the point of Paradise Cove.
The boats glided past us in full sail as we took it all in. What a day and what a beach to enjoy in beautiful Anguilla.
It is our favorite island and we have seen many beautiful islands. We can't wait to return and enjoy it all over again.

Emmanuelle BOURLAS
Real authentic, boat race, blue sea, Anguilla

Giselle Bartlette
For you lovers of nature who visit Anguilla, you will be charmed by the gentle sway of greenery gracing our Sandy Ground beach. Feast on the sumptuous meals offered by popular restaurants and prepared by experienced Anguillian chefs.
In the cool of the afternoon you can glide gently across our quiet waters and have the friendly services of our people who simply understand what your needs are. Come; enjoy you vacation under a safe and friendly atmosphere at lovely Sand Ground!

Harr Roth
My wife and I have been lucky to have visited Anguilla several times. The island is easy and a peaceful destination for us.

Everyone we've met is warm, easy and welcoming. Good people, wonderful food, great weather and, on occasion a frosty cold beer.

Joe Polak

Anguilla is the siren of the Caribbean calling me to return year after year. I freeze moments in time so I can remind myself just how spectacular a day on the "rock" can be.
From secluded walks on deserted beaches to the melodic flowing dance of a boat race the images can be captured but the experience must be "live and in person" to truly understand this island called Anguilla.

Michael Caolo
Sails boats ready to race amid a festive crowd anxious for the competition highlighting the national past-time of Anguilla.

Rick Holubowicz
What many Anguillians love – boat racing – you can feel the heat in the photo as the people walk by after the race has started.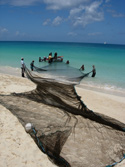 Everett Pollard
This photo was taken right out in front of the Carimar Beach Club in April 2008. I regard this photo as an homage to the wonderful fishing heritage of Anguilla and its wonderful, hard-working citizens!
We have vacationed in Anguilla for the past nine years and love the variety and freshness of the seafood on the menus and admire the creativity of the chefs that prepare it!

Lee Zucco
I always loved this traditional West Indian style home. It reminds me of the simpler times in Anguilla. On this day, a storm had just passed and the sun started to come through and just lit up the house. I love the way it looked against the storm clouds.

Victoria Strousse
This boat has travelled from Meads Bay to West End Bay, and my heart swells with Anguilla pride every time I see it.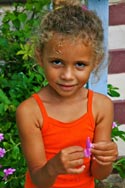 TraceyG
The adorable little girl showed up at Ferryboat Inn just as we were finishing another fabulous cheeseburger lunch.
I immediately asked both her and her father if I could photograph her; she nodded shyly, pressing that little flower between her tiny fingers, and looking up at me with those big doe eyes, the hint of a smile on her lips. What a little beauty!
Melanie Reffes
The youngest members of the dinner theatre at the Anacaona boutique hotel are magical inspirational young ladies who will be Broadway bound before they reach their teen years.
Under the watchful eye of Robin and Sue Ricketts and with a delectable dinner buffet for all to enjoy, an evening watching these young performers is Anguilla par excellence.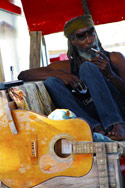 Melinda
The white sand and blue waters are great examples of the Anguilla Spirit, but after taking this picture of Bankie Banx in his own zone, I found it spoke volumes about how and why people continue to return and enjoy the island of Anguilla.
For those who are planning a trip to Angilla, stop off at the Dunes.

Jill King
This was taken on the way to Little Bay. We slowed down in front of da Vida, and I thought this was a perfect picture to show how happy and nice Anguillians are!

Dr. Millie Frantz
Friends always ask us why we go back to Anguilla each year and our answer is always... the beaches, the food and the people.
We believe no other island in the Caribbean can compete with Anguilla's pristine soft white sand beaches, crystal clear calm water, gourmet restaurants with chef's from around the world and food so scrumptious we dream of it and friendly welcoming people that make us feel like we've come home each year.
To us this combination creates the Essence of Anguilla.

Chad Wisler
We've been to Anguilla twice and have just planned another stay in 2013. The island is uniquely quiet and personable with the full-range of services without being over the top.
The beaches and waters are beautiful and inviting. Dining is unmatched – from roadside to the most upscale... it's all a match.

Chris Morin
Anguilla is one of those places you visit that you never forget. My visit to Anguilla was unlike most people's. I went with my college, Hartwick College, in January 2000, and was completely immersed in the culture for 30 straight days.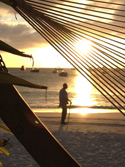 David Dick
This amazing sunset picture was captured whilst having early evening drinks at Sandbar on Sandy Ground.
The elderly gentleman on the beach is a local man, who was out for an evening stroll. In the foreground is the most comfortable hammock on the Island, with what is clearly the best view of the beach.