(Pssst... Click the photos to open a larger image!)

Donna Bell
This photo is the majestic and peaceful view above Little Bay. A person could spend hours there taking in all of the beauty.
Amanda Voigt
It was a trip beyond our wildest expectations. The views everywhere are phenomenal. While we are normally not good photographers, it was impossible to take a bad picture of Anguilla.
Now when we look at these pictures it reminds us of our fabulous vacation and the amazing start to our life together.
Angel Gonzalez
This photograph of the two Anguillian girls at Shoal Bay is one of my favorites – completely spontaneous, joyful, and beautiful – much like my vacations on Anguilla!

Anne Collins
The best deserted beach ever – Limestone Bay, Anguilla – I dream of it every night. You find it at the bottom of rocky dirt road. Peace and quiet and sunshine and swimming all day long. Amazing snorkeling with a rainbow of fish and coral and the whole beach all to yourself.
Artie Katulak
In front of Smokey's Beach Cafe, chairs, umbrella & table courtesy of Smokeys, enjoying the serene, calm waters of Cove Bay beach. PRICELESS!
Beth Baggett
The most amazing place I have ever been. My first trip out of the USA! I'm not sure anywhere else will ever live up to it! We had so much fun eating the amazing food, boating around the island, the people are fantastic, and the "liming" is so much fun!
Everyone teased me about my tan, I was out on the best beaches in the World before 8am every day I was there. Anguilla is one of the most unique and beautiful places on the planet!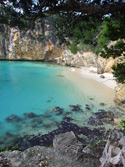 Jackie Smith
Being from the West Coast, I had actually never heard of Anguilla until some friends invited us to vacation with them this last May. I shudder to think all I would have missed if I had said no! My husband recently asked me where I wanted to retire. Less than 24 hours on Anguilla and I knew the answer.
My friend Terrie read that there was a letterbox hidden at Little Bay. Of course we could only reach the beach by climbing down a rope or jumping off of rocks on the point and swimming to it. No one liked the look of the rope and everyone was hesitant about swimming to the beach until my husband yanked off his shoes and jumped in. We loved the cove so much we came back a 2nd day. Never did find the letterbox, though.
Betty Feinman
The color of the water in Anguilla alone is worth the price of admission... separated from brilliant blue skies by a band of pure white sand, this is mother nature showing off. We had an early morning tennis game, a long swim, and lunch down the beach. This is my idea of a perfect day on Anguilla.

Catey Contes
Anguilla has the most luxurious sand that is always cool and soft. The island also features the most stunning blue water and amazing views. You can snorkel right off of the beaches to encounter amazing coral reefs teeming with marine life.
My photo shows the true natural beauty of Anguilla: its perfect beaches.

Christine Smith
Pictures do not do justice to the amazing beaches on Anguilla. You have to be here to fully experience God's creations. More shades of blue than you can even imagine; every photo captured is a work of art and postcard perfect!
An entire realm of emotions are reflected in the waters of the Caribbean. Aaahhh take me home again, Anguilla
Dan Athey
My wife and I fell in love with Anguilla the minute we set foot on the beach. The sand felt island like and water was so blue and clean!
We spent one afternoon at Savannah bay where we saw what resembled a life boat on the shore. We thought to ourselves if we could be stranded on a island, this would be the place!

Dave Dubell
Perfect examples of Anguilla's natural beauty and easy days of relaxation. We travel there every year bringing with us school supplies to donate to the local schools as they have so little otherwise.
We have made many friends on the island as they are a supremely friendly and loving people. When we leave we start our countdown to the next year as we LOVE this place and know the next time will be the best time ever!!

Dennis Rebidue
For my wife's 45th birthday we had some tough requirements... having been to many beautiful caribbean beaches on many islands, this time we wanted it all to be perfect…and perfect was what we found.
We found amazing days on sunny and quiet beaches, fabulous nights in wonderful restaurants, and easy vacation life through the ease of arrival, departure and life on the island itself... adding the friendly people and beautiful weather makes it better than perfect…and more that we could have hoped for when we started planning the trip!!!
Doug Natale
A mid morning walk in the sand on Meads Bay defines a new level of tranquilty...

Ellen Dioguardi
Our view of paradise on Shoal Bay West, the views are always different but always make us feel the same – we love Anguilla.

Fishing on Rendezvous Bay with young boy. It's the beaches AND the people that make us love Anguilla

Emily Crowe
Barnes Bay, seen from our balcony at Caribella.

F.B. Hartzell
If there's one thing people discover during a visit to Anguilla, it's the abundance of peace. Inner peace. Peaceful sunsets. Life at rest. Suspension of reality. This photo was shot in front of Smokey's at Cove Bay, as children relax in the tide after a peaceful day of play.

Stephane Emond
Anguilla have no equivalent in term of beauty and serenity, from the incredible colours of its crystal clear water, from its amazing soft white powdery sands, this island give you the truly magnitude of a real paradise, you will experienced a real perfect symbiosis trip, a must for all the people who are searching tranquility first.
Jay Bowey
Chillin' in the beautiful waters of Anguilla. So relaxing!

Renante Guinto
Anguilla has been my second home for the last 7 years working as a physician.
Coming from a tropical country, I felt very much at home with its weather and culture from the first time I set foot in this tiny island in the Caribbean.

I never thought I would fall in love with it that I turned into photography as my hobby. Anyone can surely agree that Anguilla is a tranquil island surrounded by the blue seas of the Atlantic.

Terra Zosel
If home is where the heart is, then I know I have a home in Anguilla. While I saw many, many breathtaking beaches, sunsets and, even a few sunrises, these are the pictures that most accurately describe my love of Anguilla.
This photo was a risky undertaking at Meads bay, when I decided to take my camera in the water with me to get the shot. When I look at I immediately remember how much I love the sea. If anything is ailing you, an Anguillian will tell you you to "go in the sea". Between the cooling salt water, the rhythmically hypnotizing waves, and the heart stopping teal-blue color, I think they may be right; this water could cure anything.
France Gales
Shoal Bay East at its best ! On our return from a walk to Serenity, we were overcome by the simplicity and the beauty of these coconut trees as they lean towards the ocean. We imagined that one day a storm will erase this view but we will always have our memories captured in this picture !

Kayla Lazarek
I love spending time in Anguilla! I have great friends down there. On my vacation down there, for one day I went out for the whole day driving around the Island to take great pictures and to show my friends at home what a BEAUTIFUL place Anguilla is! One love :)

Gary Parker
I had read that Anguilla offered the best beaches in the Caribbean, so I had to go check it out. I was not disappointed! Without a doubt – the softest, spongiest, whitest "perfect" beach I have ever seen or felt between my toes. Combined with the bluest water, amazing corrals for snorkelling, incredible food offered nearby and the perfect tropical weather – I fell in love with Anguilla.
Ginny Kuhn
Does it get anymore inviting than this? I don't think so. In the distance is St. Maarten from where we launched our day trip to Anguilla via a catamaran and visited the beaches and several resorts on the island.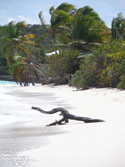 Giulia Polli
Different sights over the best place in the world... Every corner of the island reserves you wonderful surprises, which you shoot with your heart… These sights will fill our hearts and memories forever! We left our heart there and hope to be there soon again!
Gregory Smith
I spent a fantastic week in Anguilla over Christmas 2010... This photo was shot while body surfing at Shoal Bay Beach. These are the most picturesque beaches I've ever seen. I hope to return one day.

Helen Coyle Bergstein
We met up with Calvin on Crocus Bay and he delivered us by boat to Little Bay – a tiny slice of secluded beach where we snorkeled until dusk – it truly felt like our little piece of paradise and one we'll treasure forever.
Jade Muttamara
We went to Anguilla, BWI, in February 2011. I based this destination solely on the images I found on Tripadvisor, and deemed it the most beautiful destination this side of the world, based on images alone. I did hours of travel research upon discovering such a breathtaking combination of colors, and booked our flight. As soon as we landed, it was a cornucopia delight of visual sensation.
The shimmering color combinations of blue in the water left me literally speechless. I was lucky enough to still have it in me to snap pictures throughout our trip. I'd love to go back to Anguilla to experience the sensation again of being in paradise.

Jeffrey Dery
We stayed in Anguilla 3 years ago for our honeymoon at the Cuisinart Resort. Unbelievable island, resort and vacation. Hours before our flight was to leave on the last day, we took one last walk down the beach. On our return to the resort, we had this beautiful view of the perfect sand, crystal clear water and breathtaking sky. Our favorite photo of the trip encompassing all the beauty of Anguilla. Can't wait to go back someday.

Jenny
There really is just SOMETHING about that blue water.... There certainly is something about that magical little island. One of my family's favorite past times? Relaxing on a hammock by Rendezvous Bay.
Kathy Schmitt
Anguilla is truly paradise. A stay on Mead's Bay means waking to powder soft sand and crystal clear water just steps from your door. The delicious dilemma of which incredible restaurant to stroll to for dinner has NO wrong answers. The friends you make and memories you bring home will stay with you forever.

Tiffany
Anguilla is a place that everyone has to experience once! My trips to Anguilla have been more than exciting every time! I would consider this to be my second home, even though I do not know all the people on island. My friends that I do know are quite amazing! Everyone on this island welcomes all tourist with open arms. Great restaurants and breath taking beaches!
All beaches are public so they are free for anyone to lay out in the sun all day! Anguilla is a small island and is so precious!! The sun is blazing all the time and if they say it will rain literally it only rains for 5 minutes, there is hardly no clouds in the sky, EVER! Anguilla will have to be by far my favorite paradise to be at! LOTS OF LOVE!

Lee Zucco
Anguilla is my happy place, where the stress just melts away and I feel revived and at peace.

I love the beaches, the funky little beach bars, the amazing restaurants…but most of all the people of Anguilla… they are truly special people…proud of their island…friendly and welcoming…many of them now my friends that I look forward to seeing every year.

Les Abrams
Thought I'd found paradise in Hawaii, visiting multiple islands many times, I was wrong. My wife and I celebrated our 10th anniversary in 2007 on Anguilla and WOW, there's really no comparison, need for any debate, case closed. The pristine beaches and glass clear turquoise waters and friendly people of this cozy little island gem simply cannot be beat anywhere on the planet, period!
Linda Eklund-Stiehler
I had the unique privilege of living on Anguilla for almost 2 years, I cherish some of the memories there and well appreciate the challenges of living the island life. I always strive to return to the island again one day and will appreciate all the more, having known it so well at one time.

Lucy Lopez
White sand beaches and a bright beaming sun, rum punch cocktails and scrumptious delicacies.

As we stumbled onto one of the world's greatest escapes, we knew we'd found our second home. From the delightful locals, to the mile long beaches, this island has got something for everyone. Welcome to Anguilla, where choosing your bathing suit and an appropriate SPF are your biggest concerns.

Susan
What a treat to find this incredible pink sand beach while awaiting our delicious crayfish lunch specially cooked by Nat at the Palm Grove! And to be the only one's on the beach on such a beautiful February day was simply amazing. Perfect, tiny seashells and pink coral washing in with each gentle wave, the line of palms surrounding is just gorgeous. Truly a magnificent spot, we dream of returning soon.
Mark Neebe
My wife found this place for us to share together. Nori enhanced our visits with her vivid descriptions of how to enjoy Anguilla in a unique way: hiking and exploring. From adventurous hikes at the wild West End to the tranquillity of Little Bay, we have found treasures beyond imagination and would like to thank the people of Anguilla for sharing it with us.

Matt Closter
These pictures were all taken during an unforgettable 4 month stay on Anguilla last winter. The incredible undisturbed beauty of this island and the amazing people that are fortunate to call it home easily make Anguilla the most awesome place I've ever been.
Its impossible to pinpoint one favorite place, but the hammocks at Gwens and turqoise waters of meads bay capture the essence of Anguilla's sandy life and remind me why I'll definitely be back. It doesn't get any better than this!

Mila Lopez
If there is a heaven on Earth, i found mine in Anguilla. That was my first thought as soon as i stepped into the sand and ocean of this marvelous island. Its my home away from home. Not only do you find first class cuisine, but the friendliness of the natives is hard to surpass.
Morgan Millett
Although photography requires talent, it's impossible to take a bad picture of any beach on Anguilla. The island itself radiates such positive energy and happiness.

Richard Powers
I went into the water at Shoal Bay East up to my neck and took this picture. I never could have gotten the reflection the way it showed without getting in the water.
I was very careful not to get the camera wet! I love the way it showed the reflection and the color of the water, it really captured the beauty of the water and the beach and the beauty of Anguilla to me!

Rob Nicholson
My wife found a piece of coral on the beach at Shoal Bay West, when I held it up in my hands it totally signified the day on Anguilla... Peace.

My friend Jim and I in the pool at our favorite Villa on Anguilla, Moonrise, thinking that we wanted to stay instead of getting on the plane to go back to Boston.
Robert Troupe
Carimar Beach Club 2010 on lovely Mead's Bay, Anguilla. My wife and I travelled here in 2010 to celebrate our 10 year wedding anniversary.
We stayed for a week at the Carimar Beach Club and immediately knew…this was the place for us! We LOVE Carimar and we LOVE Anguilla!
Scott Lewis
On the Deck of the Old Gwen's – Crystal clear water gradually turns to deep blue and melds with the sky.

Scott Hauser
Meads Bay our first beach every morning to walk and enjoy true beauty.
Shannon Falzon
These photos were taken during my trip to Anguilla last August for Carnival. All of my pictures (over 1000!) were marked by cerulean waters, sandy beaches and blissful relaxation. This photo is from Scilly Cay... The boats that were tied up as we hopped on our water taxi over, and a shot of Scilly Cay as we approached it from the distance.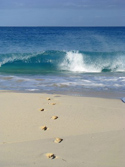 Tess Martin
Meads Bay Beach in Anguilla is most definitely Paradise on Earth! The crystal clear, turquoise water and sugary sand…the gorgeous rainbow skies, clouds, and sunsets…the crisp breezes through the palm trees…the cooling shadows on the sand.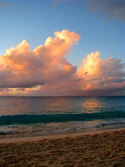 These all add up to the most beautiful beach on earth – on the most glorious island in the world – Anguilla! We love walking the beach and looking for unusual colors, shapes, shadows, and compositions…then snapping the photos to capture the moment so that we can always remember our times on Mead's Bay Beach.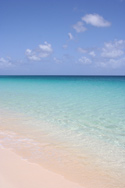 Tiffany Caldwell
This tiny island evokes all five senses: Sight (idyllic beaches), Sound (local music), Smell (Anguillian lobster and crayfish on the grill), Touch (powdery white sand between your toes), and Taste (gourmet cuisine).

Tom Cunniff
This was shot at Da'Vida, back in the days when there was no Bayside Grill quite yet.

This was shot over a leisurely lunch at Straw Hat

Walt Scott
I feel very fortunate when I can visit this beautiful island full of fabulous people, magnificient scenery and the many delicious restaurants and the variety offered. Many last friendships have been made and are treasured just as Anguilliams treasure The Fountain.

Vicki Foertschbeck
View from the deck of The Dunes Preserve. A must see for everyone visiting Anguilla. Great views, delicious rum punch, and of course, Mr. Bankie Banx.
Karyl Drew
This photo shows the view from Gwen's Reggae Grill and every time I look at it I remember the feeling of relaxation that comes over me when I step on the island.
Ricca Macklin
My internship will forever be a memorable and life changing experience. I was fortunate enough to gain a culinary internship at the Cuisinart Resort and Spa.
I was surrounded by the ocean and at work I enjoyed my breaks by just taking in the magnificence. The beauty alone has made it an absolutely amazing place to live for two months but the only thing better than the beaches and food is the people. Everyone is so warm and hospitable.
I was nervous to come here alone but the island and resort soon felt like home. Coming to work in Anguilla has become one of the best decisions I have and will ever make.

Shelli
Anguilla is a special magical place that gets into your heart and soul. The beauty, the people, the friendships, the tranquility, the food, the beaches, there is no place like it on earth.
Anguilla is my happy place, a place to dream, relax, dance, smile, be inspired, eat mouth watering food, be filled with the sounds of fabulous music, swim in the most beautiful seas, melt into the most amazing sunsets, bring home the most wonderful dogs, a place you never want to leave,and look forward to returning to year after year.

Helen Sumrov
When my sister and I arrived at Junk's Hole we were in Heaven. There was not another person on the beach and it was breathtaking.
It had been raining for three days during our ten day trip in April and the sun was finally shining. My sister and I went our separate ways around the cove exploring, sunning, swimming. We visited every beach on Anguilla but three, ten or so in the rain.
Rain or shine, Anguilla is the most beautiful place we have ever been.

Tammy Redmon
Anguilla for me has been the dream of my heart since I first read about it in 2005. It was then when the Blanchards challenged me with the idea I could LIVE what I Love. That is the year my love affair with this beautiful island first began, simply from words on a page that painted vivid imagery of what's possible. Opening my eyes to the hope for more from my contribution to the world around me.
It was in that moment I opened my mind, and my heart up to the possibility of having an audacious dream! A dream so big that I would be willing to do anything to have it realized. That was the year I stepped out of cubical nation and embraced entrepreneurialism, just as I imagined being embraced by the warmth of the sand on Anguilla's beaches. What a journey it has been!

Kristen Bradow
My husband and I LOVE Anguilla. Our favorite beach is Shoal Bay East. There is something magical about Anguilla that can be felt so deeply on Shoal Bay East. This is a beach that will literally take your breath away. This is a beach that makes you realize something bigger was responsible for creating a place that is so amazing.