Spice of India (AKA Charles Multi Cuisine)...
"Doing Justice To Your Appetite"
Update 2019: Spice of India has closed.
By: Kristin Bourne
Welcome to the island's first sit-down Indian restaurant... Spice of India.
The Location
If you are already familiar with Anguilla and its fine eating options, you'll know exactly where to find this spot… simply go to the former location of Geraud's Patisserie in the western half of the island and you'll find Spice of India.
Spice of India can be found at the former Geraud's location

If you're unfamiliar, head toward Anguilla's West End on the main road. You can't miss it on the left. It's before you get to Rendezvous Bay and just a couple doors up from the beautifully decorated restaurant De Cuisine.
The Space
On my first visit to Spice of India, I went for dinner. Upon arriving and entering, I almost immediately had to remind myself that I was in the same space as the former Geraud's. I found it a little bit of an entertaining mind-game as nothing about it reminded me of Geraud's space except for the door to the kitchen, the kitchen window and the floor.
The Spice of India bar

A portion of the dining room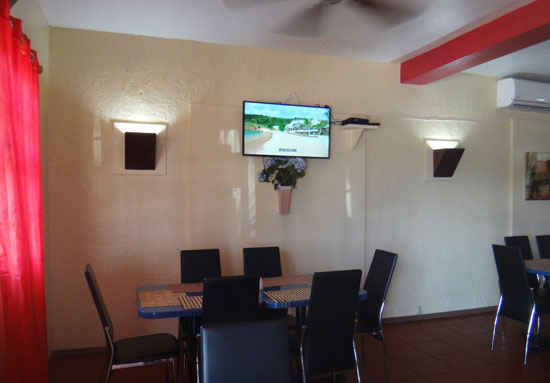 Full house!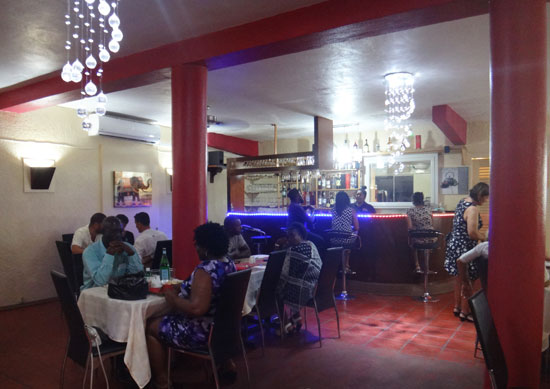 The exterior is lit with modern, bright string lights. The interior in the evening is quite bright as well. The color scheme is red and white, with a few paintings, as well as a mounted television, accenting the wall.
Spice of India's bar seats about 8 people (you can opt to dine at the bar) and the dining room space is just right. Tables are not too close together and the seats are comfy. The space is clean and of course, it smells like a dream, if you are a fan of Indian cuisine.
Indian Cuisine in Anguilla
This is where things get exciting.
If you read about Anguilla's first Indian take-out place (with especially, succulent chicken entrees) you'll recall my love for Indian food.
Having lived near "Curry Hill" in Manhattan in New York City before moving to Anguilla, Indian flavors were absent on the island until Good Korma opened in 2015.
Now, for fans of Indian food, whether you're visiting or live here, we have the best of both worlds with Good Korma's take-out and Spice of India's dine-in.
Both are in easily accessed locations on the island.
Spice of India's menu is expansive and the opening hours are convenient for lunch and dinner, plus they're open every day of the week.
Anguilla's dining options continue to grow and satisfy!
The Experience & Menu
The menu at Spice of India starts by thanking you for choosing to dine there. They note that their experienced chefs and staff will do "justice to your appetite", which is their slogan.
The drink menu is presented first and it offers everything from Volvic water to sodas, beers, a liquor selection, wine and champagne.
The Spice of India tandoor oven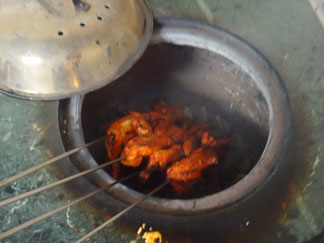 After ordering a glass of red wine, I asked the owner, Charles about the tandoor oven. He proudly explained that it is an authentic one, a cylinder of clay fueled by charcoals as opposed to gas.
After ordering, and while I waited, I noticed Charles' work ethic and found it admirable. As a lady at the next table over had her cloth napkin begin to fall off of her lap, Charles quickly darted toward it to hand it back to her.
He had what seemed to be a full staff in the kitchen which he was in and out of quite a bit. He also had another server in the dining room helping him wait on tables.
Although it was my first time there, I concluded it to be a busy night. At one point almost all of the tables were occupied and plenty of people came in and headed to the bar.
My "Chef's Vegetarian tandoori appetizer platter" soon arrived. Attractive to the eye, it also smelled as I had hoped, exuding all of the potent flavors used in authentic Indian cooking…
The plate was a collection of five different appetizers and Charles had thrown in a samosa for good measure.
The Chef's Vegetarian Tandoori Platter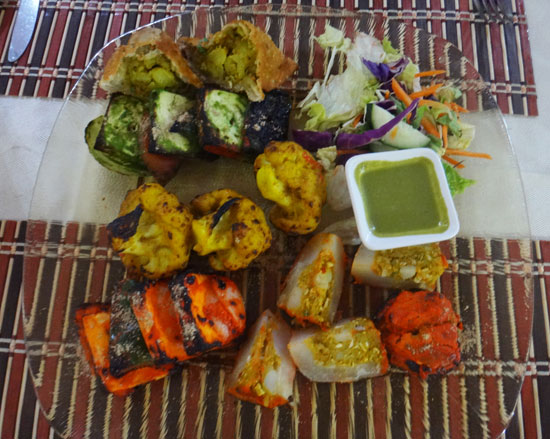 Included on the platter was a large tandoori mushroom cut in half, four pieces of a stuffed potato, pieces of paneer tikka and of malai paneer tikka (cubes of cheese marinated and cooked in the tandoor oven) and last but not least, the tandoori kesari gobi (marinated cauliflower that's barbecued in the charcoal fire).
A yogurt/cilantro/mint dipping sauce was included on the side. I liked dipping the samosa and the stuffed potato, everything else was excellent sans sauce. Yes, I found everything was so good alone that I wasn't even remembering to dip - and I love sauces, including that one.
I found the cauliflower was special in both taste and texture and I can't say that I've ever said that of cauliflower before. I've thought of it every day since I tasted it.
I shouldn't leave out that the plate was garnished with a garden salad. There was nothing wrong with it, but it didn't grab my attention. It just didn't compare to the tandoor oven-cooked dishes and I wasn't wasting any stomach space on it.
The appetizer menu options are abundant and feature both vegetarian and non-vegetarian dishes and dishes from the tandoor oven and not. Everything from fish to mutton, chicken and prawns.
The appetizers range in price from $4 US (samosas) to $19.95 US (the non-vegetarian tandoori platter).
On to the entrees!
Here I tried a prawn, chicken and a vegetarian entree. Important to note the entrees do not come with rice. This way, you choose whether you want one of their three types breads or rice depending on your style of eating or diet.
3 entrees, 3 bread varieties and chawal side (white rice)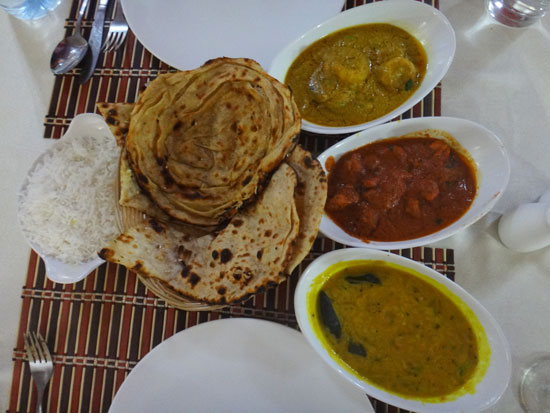 Pictured are a prawn entree with a rich coconut sauce, the Murgh tikka masala (chicken) and the Yellow Dal Tadka.
Charles noted that the kitchen is able to come up with a custom entree on the spot for anyone with special requests. In this case, the challenge was the prawn entree. I requested that it to not be spicy and that they omit any tomato or onion. The result was a creamy, coconut sauce without much heat. Still full of flavor and filling.
The chefs were very accommodating.
My favorite of the three was the Dal. I should add it's one of my favorite Dal's I've ever had, smokey and rich with flavor. All of the dishes were delicious and different from each other - and all went together nicely too.
Entree prices range from $8.95 US to $18.95 US.
A side of plain rice and garlic naan, paratha and plain roti are also pictured. These breads are $2.25 and less. There are also rice options starting at $3 US, so each person can choose how they eat their entree.
Last but not least, Spice of India features authentic Indian desserts. They have a Gulab Jamun and Gajar (carrot) Kahalwaa, both priced at $4.95 US.
After my dinner experience at Spice of India, I was back quickly to try take out.
Quick & Tasty Take Out
Take out: Chana masala, chawal, plain naan

I called around 2pm and I was told it would be about 20 minutes. I arrived 25 minutes later and my food was waiting for me.
I just had to try their Chana Masala ($8.95 US). I ordered it with a side of chawal (white rice, $3.00 US) and plain naan ($1.75 US). I promptly paid and was on my way. When I got home, the food was still warm. I had hoped to eat some and have leftovers and but I couldn't help myself and ate every bite.
Next time, I'll order 2 sides of bread and no rice with the Chana Masala. I highly recommend squeezing a little fresh lemon on eat bite of that combination as well.
Buffet and Hours of Operation
The buffet area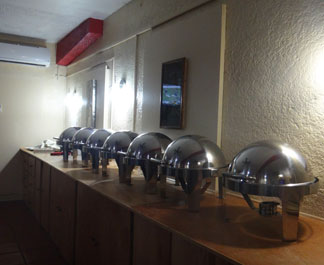 Buffet/Indian food lovers, you'll want to keep reading…
Spice of India offers an all-you-can-eat buffet on Thursdays from 6:30pm until 10pm.
It includes a variety of 4 different appetizers, 4 different entrees (2 vegetarian and 2 non-vegetarian), assorted naan breads, basmati rice and dessert.
It's $28 US and does not include drinks.
Spice of India at night

If you can't tell yet, Spice of India was a big hit for me. To date, all reviews from friends on-island have been positive. The only slight grumbles I've heard is about the dining room atmosphere.
I don't tend to let aesthetics effect any dining choices I make since it's about the food and eating, for me. They rank high in my book so far.
If you're looking for a delicious Indian dining experience and the luxury of tandoor oven dishes, don't hesitate to try Spice of India.
It's another fine addition to Anguilla's established standard of excellent dining. Charles and his staff will go out of their way to make sure you're happy with your experience.
Contact, Hours & Map
Hours: From Monday through Saturday, they are open for lunch from 12pm to 3pm and dinner from 6pm to 10pm. Sunday they are open for dinner only.
Tel.: 264-584-7742