St. Martin Style Bistro in Anguilla...
Valley Bistro
Valley Bistro has closed.
Valley Bistro At A Glance
Central, convenient and serving tasty French food, Valley Bistro is an excellent option for good food in the center of town.
More on Valley Bistro, below...
Who am I?
I am a great spot for a quiet lunch.
I am an elegant place for an evening meal.
I have the ambiance and setting of an Anguilla restaurant, right on Island Harbour's sandy shores.
My menu is on par with the five-star, French restaurants of St. Martin.
If you guessed Côté Mer, you win!
Whenever my Dad and I take the Anguilla ferry to St. Martin, our mouths start watering before we even step foot on French soil. There is something so desirable about French cuisine.
Naturally, we both fell in love with Côté Mer, for its feel and its food.
Come summer, some restaurants in Anguilla close early to minimize costs or just to take the summer off. Côté Mer has adopted this policy! You can imagine the disappointment on my face when I found out on a day in July. Would I have to go all the way to St. Martin for tasty French dining?
No need to travel to "France", after all! ;-)
Côté Mer's same French owner, Michel, opened a new spot in the Valley, right behind the Hungry's food van.
Inside Valley Bistro
Valley Bistro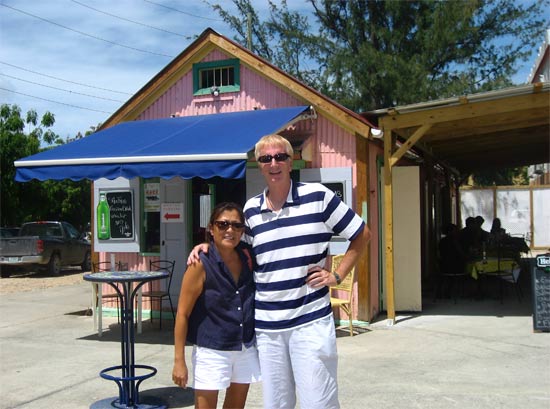 We had zipped by the colorful roadside bistro multiple times.
Once we found out it was Michel's? We stopped!
I wondered how enjoyable this environment would be, being right off the side of a busy road in the center of town. The restaurant is very hustle and bustle, catching all of the workers on their lunch breaks. But, once you are inside, you are somehow removed from much of the traffic and noise of the Valley.
We took a look around...
The Bar By The Entrance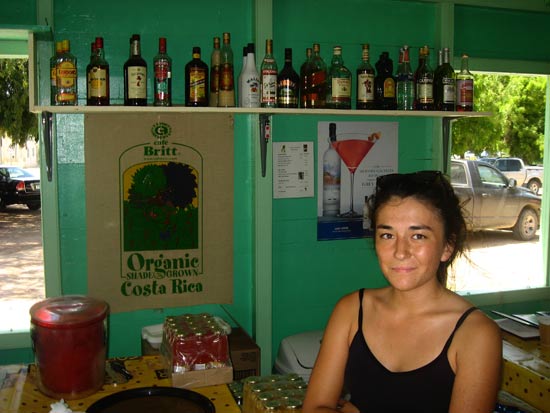 Dining Area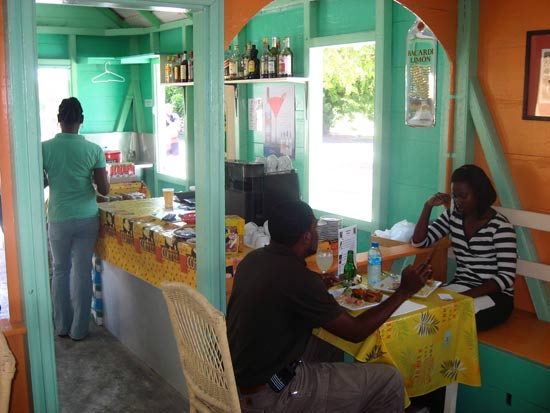 Kitchen in the Back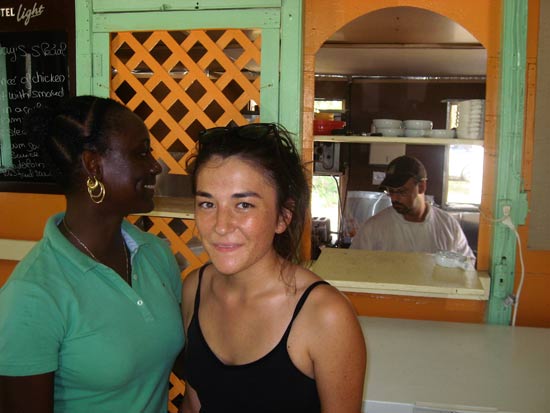 Inside, Valley Bistro is charming and rustic! Again, Michel has mastered creating a restaurant with an Anguillian look and feel, but with a French, St. Martin style menu.
The interior was cute and comfortable, but we felt for the breeze!
Out We Went...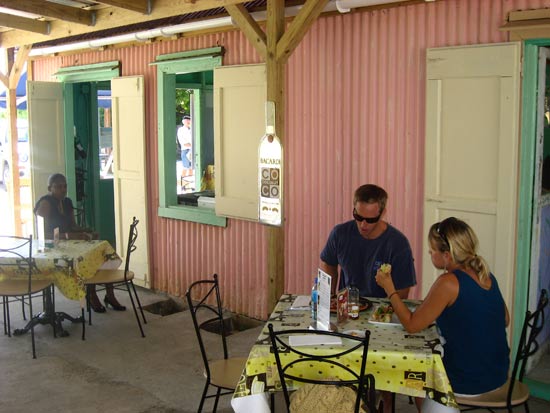 Their menu features many French favorites...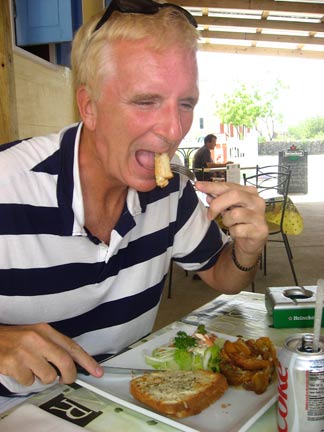 French onion soup, salade chèvre chaude (my favorite!), croque monsieur, croque salmon, a variety of pastas (bolognese, etc.), french pizzas and many daily specials.
I wanted to be faithful to my French menu favorite (the salade chèvre chaude), but I had to try the salmon pizza!
My Mom and Dad were also feeling like fish. Two croque salmons.
They were out of French fries, but that turned out to be a plus.
Instead, their croque salmons came with potatoes that were sautéed with onions, and then deep fried.
They were spectacular!
(Anguilla travel tip?: I had the fries at a later date. They don't come close to comparing. See if you can swap the fries for that potato concoction. Truly, to die for.)
The pizza was light and thin, done just to my liking. It was the juicy chunks of salmon that made the pizza something else. Such generous portions, too!
We have been back several times with family and friends. I did finally try the much anticipated salade chèvre chaude. 10/10!
Valley Bistro is a great place to grab a quick bite to eat, or to have a casual lunch. The quality of food, along with the comfortable setting, for such a reasonable cost makes this one of our favorites.
For the up to date menu (2013), see the image below...
We still have to try it for breakfast and for dinner! We'll be back soon...
Directions, Hours & Contact
Directions: Located across from St. Gerard's church in the Valley, right by the round-about by the airport. See the map below for exact location.
Valley Bistro
Good for quick, tasty and convenient meals.
Hours: Monday to Friday from 8am-3pm.
Tel: 264-498-5100