Valley Bistro in The Valley...
A Charming Anguilla Restaurant
Valley Bistro has closed.
By: Kristin Bourne
Often it seems many tourists only drive through The Valley either on their way to Shoal Bay or from Shoal Bay on their way to the West End, passing right by some of Anguilla's very decent and affordable restaurants.
The new Valley Bistro menu

True, The Valley is not on the sea but it offers a brief and more "urban" experience versus the remainder of the Anguilla which is peaceful and more rural-feeling.
The Valley is the island center for business and the Government. Here, there is more of a concentration of busineses, schools, churches, and restaurants.
Andy's Restaurant in Anguilla is an example of great restaurant located in the island center, The Valley.
Valley Bistro has been around a while and has changed hands a couple of times.
Today, the restaurant is being run by (along with the help of friends) property owner, Scott Hauser.
Nori and I tried Scott Hauser's Valley Bistro for lunch and were extremely pleased.
The building is still charming as ever.
The eye-pleasing Valley Bistro...

Still the same Caribbean-French-style bistro inside and out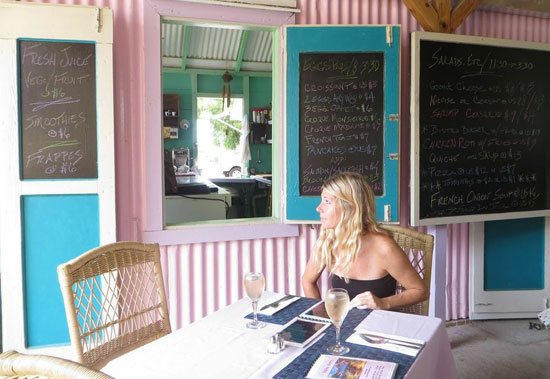 Scott is also in the process of finishing a back garden patio that will extend the outdoor seating area and feel like a bit of an oasis as it sits away from the main road.
The Valley Bistro Experience
Also charming is the man there to take your order and take care of you, my friend, John.
John greeted Nori and I and allowed to sit where we wished.
Service Extraordinaire with John!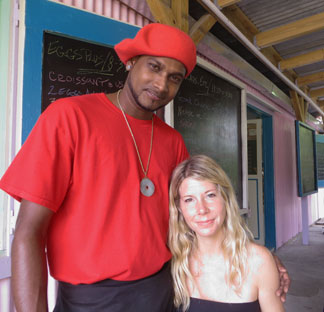 We asked plenty of questions about the menu and received honest feedback from John and in return, we were both impressed with our lunches.
A refreshing glass of white wine along side the Goat Cheese Salad (for Nori) and Shrimp Caesar Salad (for me), kicked off by an order of humus, which we shared, left us ready to return to Valley Bistro again soon.
I am not an enormous fan of a salad for a meal, with exception to Dale Carty's Seafood Salad at Tasty's Resturant, and would deem myself a tough critic on the topic. The salad has to be fresh, cold, full of taste and filling for me to feel even slightly satisfied...
That said, the Shrimp Caesar Salad was just perfect alongside the humus appetizer.
The small Shrimp Caesar Salad at Valley Bistro

The salad had three large shrimp with a pesto drizzle, fresh greens, and was topped with a few anchovy slices and dotted with crunchy croutons.
I love parmesan cheese but any large slices of that amazing cheese topping the salad was not missed in this case, the grated version worked just fine.
Nori shared a bit of her small Goat Cheese Salad with me and I would opt for it as well. The goat cheese comes warmed atop 3 baguette slices. Delicious!
We were both so happy!
The small Goat Cheese Salad at Valley Bistro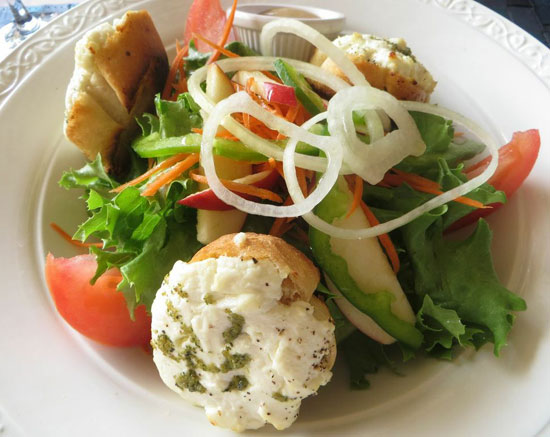 As we discussed our experience, the only thing we might have altered was for the humus to be served with something other than tortilla chips, like toasted pita points or some red pepper slices.
While the hummus wasn't special, it was good and the serving was a fair size for the price.
I shouldn't forget to mention a bonus...
After our lunch, John presented us with a shot of his homemade Papaya rum. Very fresh papaya... from right there on the property! It was a nice way to finish the meal.
The Valley Bistro Menu
Update 2017: For most up to date menu and restaurant hours, visit Menus.ai.
We chatted with John, had a closer look at the menu and as we flipped around through the menu, we notcied how it's creatively published.
The menu offerings were well varied... fresh juices, smoothies, frappes, breakfast, lunch and "lite bites" in the evening, 7 days a week!
Homemade Papaya Rum

Breakfast is served from 8am to 3:30pm and offers croissants, eggs any way, French favorites like the Croque Monsieur/Madame, French Toast and Pancakes. Prices range from $3 to $7 US.
Lunch fare is served from 11:30am and 3:30pm daily. This includes everything from rotis and quiche, a Bistro burger, pizza and salad and range in price from $7 US to $14 US.
I should point out again how nice it is to have the two size options for salads.
Lunch entrees to highlight include Le Burger Avec Oeuf w/ any sauce for $17 US, a Mahi-mahi with Vegetable Tapenade ($17 US), and a Pork Tenderloin with Mustard Sauce ($18 US).
The "Lite Bites" are served from 3:30pm to 8pm.
During this timeframe you can order pizza, pate, quiche, rotis and dips like humus and guacamole with prices from $5 US to $9 US.
Dessert is served all day as are all beverages: wine, beer, coffees, juice and soda.
With lovely service, a cool Caribbean bistro atmosphere, such variety, tasty food and fair pricing, we'll be back.
Will you?