Anguilla Real Estate: The Guide...
Sandy Ground
Welcome to one of Anguilla's main ports, Sandy Ground. Down on the beach it's all fun, fun, fun - restaurants, bars and small hotels. Look up and you'll find plenty of Anguilla villas and homes in the hills that surround the picturesque bay!
Let's see where we are...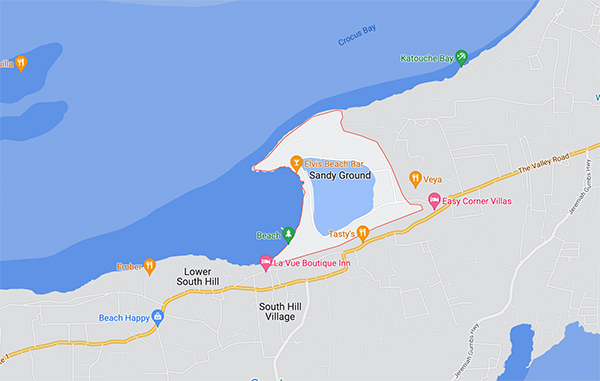 Have you ever seen the movie, Casablanca? It's kind of like that, except in the Caribbean. With the constant in-and-out of folks from around the world visiting Elvis's, Lit Lounge, Roy's and so forth, there is always something going on.
Sandy Ground is the island's main port. The island's weekly container ship comes in here, many local boats moor in these waters and all sailors visiting Anguilla pass through Sandy Ground.
Overlooking Sandy Ground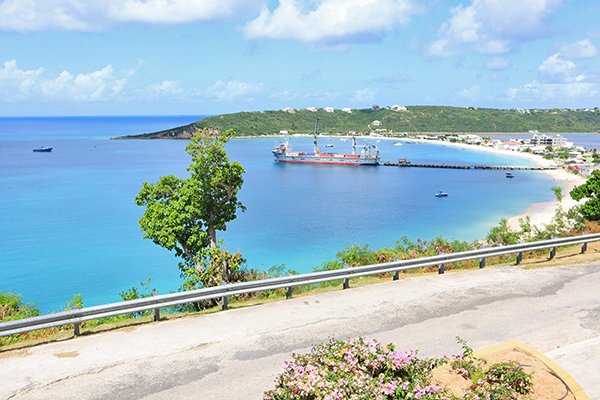 You always find yourself shaking hands with people from all walks of life, all corners of the Caribbean... even the world.
And there's no better place to be than Sandy Ground during the August boat races.
It is in this summer month that Anguilla holds its national boat races. The whole island takes part in rooting them on - and everyone parties on Sandy Ground from sun up to sun down and all through the night!
Anguilla itself is known to be a very low-key, laid back island. Definitely not the place for throbbing night-life. But, Sandy Ground is the exception, especially come August...
August Monday Beach Party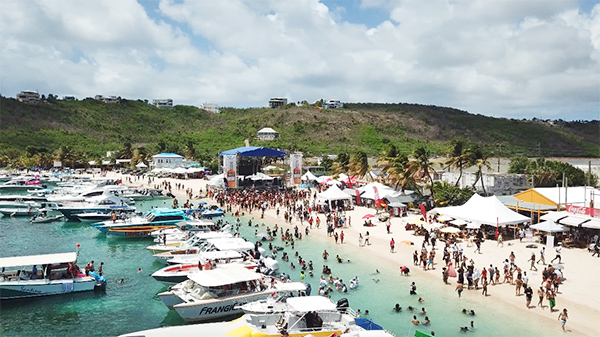 Sandy Ground really livens up. Stereos get pulled out of vans, reggae music plays, BBQs get fired up, and everyone parties!
But nobody can party forever.
Sandy Ground does quiet down to be one of the most tranquil beaches.
With its crystal clear and calm waters, just floating and drifting in the warm water with a peaceful atmosphere around, how can you go wrong?
There are many Anguilla villas up in the cliffs surrounding the bay. They range from modest and comfortable, to elaborate and luxurious. These hills offer spectacular views...
The View From Spyglass Hill Villa

Featured on House Hunters International, this villa is known for its Caribbean interior design, and its sweeping views of Sandy Ground.
If you prefer to live "in the action," homes at sea level do become available from time to time, as well as just a bit inland (much cheaper).
Sandy Ground Blues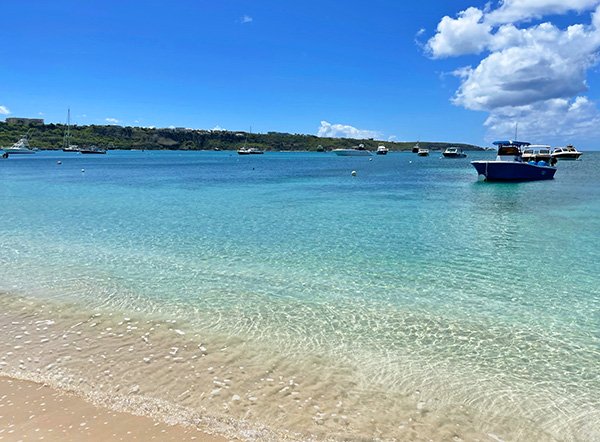 High up, or low down, Sandy Ground offers some funky and fun Anguilla real estate.
Watch this video to get a feel for Sandy Ground...