Anguilla Real Estate: The Guide...
Sandy Ground
Welcome to the party beach, Sandy Ground. Down on the beach it's all fun, fun, fun - restaurants, bars and small hotels. But look up and you'll find luxurious Anguilla villas!
Let's see where we are...
Have you ever seen the movie, Casablanca? It's kind of like that, except in the Caribbean. With the constant in-and-out of folks from around the world visiting Johnno's, the Pumphouse, and so forth, there is always something going on.
And there's no better place to be than Sandy Ground during the August boat races. It is in this scorching month that Anguilla holds its national boat races. The whole island takes part in rooting them on - and everyone parties on Sandy Ground from sun up to sun down and all through the night!
Anguilla itself is known to be a very low-key, laid back island. Definitely not the place for throbbing night-life.
But, Sandy Ground is "party central"...
On Thursdays after night fall, Sandy Ground really livens up. Stereos get pulled out of vans, reggae music plays, BBQs get fired up, and everyone parties!
You'll meet friendly locals here, the harbor is filled with boats from all around the globe.
All sailors visiting Anguilla come through Sandy Ground! You find yourself shaking hands with people from all walks of life, all corners of the Caribbean... even the world.
The parties really intensify in August.
But nobody can party forever!
Sandy Ground does quiet down to be one of the most tranquil beaches.
With its crystal clear and calm waters, just floating and drifting in the warm water with a peaceful atmosphere around, how can you go wrong?
There are many Anguilla villas up in the cliffs surrounding the bay. They range from modest and comfortable, to elaborate and luxurious...
Looking north, over Sandy Ground and Road Bay...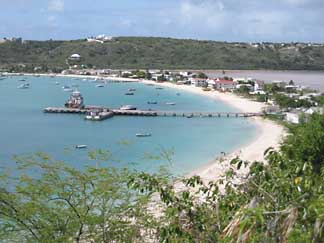 ... you can watch both the pleasure boats come and go, as well as the weekly large container boat (everyone on the island plans their shopping around that boat).
Personally, I'd rather have a nice piece of Anguilla real estate high in the hills on either side of Road Bay.
The hills offer spectacular views...
Looking south, back towards the above photo...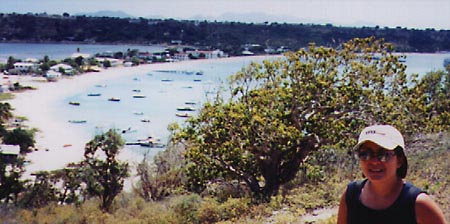 Taken from the beach looking north...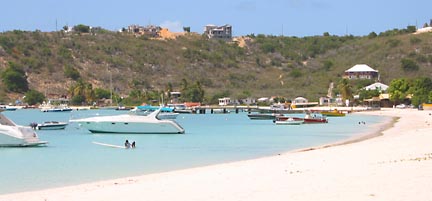 If you prefer to live "in the action"...
Taken from the Mariners (closed) looking south...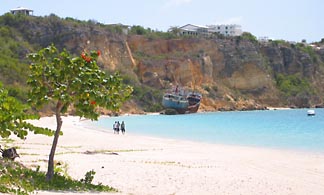 ... homes at sea level do become available from time to time, as well as just a bit inland (much cheaper).
Nightlife is just a step from your porch, 365 days a year. Every weekend, there are BBQs, right on the beach. But it is hotter if you buy "low-down," with less breeze.
The above photo was taken from the Mariners Resort. My Dad thinks you might be able to work with Jackie Pascher on this interesting (he calls it "distressed") Anguilla real estate opportunity. See where the road forks in the foreground of the photo below?...
Coming into Sandy Ground...

Follow the left fork to the (now) closed-down Mariners Resort. It has several charming little West Indian cottages.
This establishment has opened and closed under several owners. Sooner or later, they'll sell to individual owners -- what a nice place for a winter getaway!
High up, or low down, Sandy Ground offers some funky and fun Anguilla real estate.
Watch this video to get a feel for Sandy Ground...