Anguilla's First Chef's Table
Pop Up Restaurant Event
"What We Grow" by Chef Denise Carr
By: Kristin Bourne
On the evening of May 29th, 2017 I was privileged to experience Anguilla's first themed, chef "pop up restaurant", held by Chef Denise Carr in the charming setting at the historic Village Bakehouse in The Valley.
The event, De Chefs Table was announced via social media and posters were displayed at The Village Bakehouse in The Valley and Grands Vins de France in Anguilla's West End.
22 spots were available and they sold out quickly.
The setting at The Village Bakehouse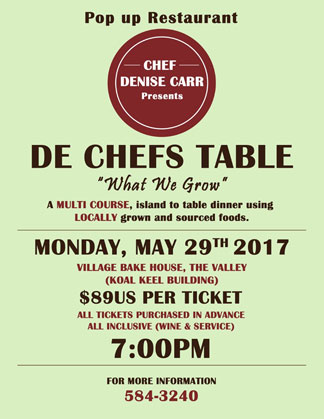 Pop up restaurants, a dining phenomenon of this century, are generally held as a temporary restaurant by chefs who have a pre-existing following. Such is the case for Chef Denise Carr who was a co-founder and former chef of Anguilla's popular tapas restaurant in Sandy Ground called SandBar.
Once SandBar was sold to its current owners, she co-founded De Cuisine in Anguilla's West End, long after her stint at CuisinArt Golf Resort & Spa where she started their popular and exclusive "Chef's Table".
Her resume extends well beyond Anguilla's borders and her experience is International. She has even cooked for Julia Child.
Chef Denise Carr

Knowing this, you'd presume she's not phased by any subsequent work after satisfying the likes of Julia Child. However, Denise continues to challenge herself and from my perspective, it's because she loves the effort and expertise that goes in to being a talented chef along with making others happy.
She also appreciates the challenge of utilizing local ingredients from the island she loves.
Since Anguilla is more arid and historically an unforgiving place for those reliant on living off of the land, a goal of Denise's was to demonstrate that it's possible to create a dining experience for diners to savor, using items from the land and sea of Anguilla.
Her debut pop up plan was to use at least a 80/20 local to import ratio of ingredients.
The results of her efforts for De Chef's Table pop up the evening of May 29th and its theme, "What We Grow" yielded 7 courses to 22 guests of 90% locally sourced ingredients. Keep reading for the remarkable details!
Being Resourceful
As Denise says, the pop up was "truly organic"… The food aside, in order to pull off this pop up, Denise had to find space with at least a minimal kitchen set-up. She had to obtain tables, chairs, tableware, and even lighting in this case.
Lovely low-lighting that evening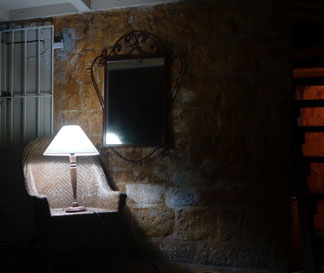 The Village Bakehouse was gracious enough to rent her the space for the event. She hired one kitchen assistant and two servers.
She borrowed some tableware from her friends at Veya, purchased a few items and the rest, she made.
The tables for this event were arranged in two long sets of two with one table seating 12 and then other seating 10. Guests were welcome to sit where they wished.
Wine was poured. One of the select imports, she offered a red or white option from the local wine shop, Grands Vins de France .
The bread bowls for each table (which were filled with fresh baguettes from The Village Bakehouse) were spathes from a coconut palm tree.
The napkins rings were made by Denise using PVC pipe and sea glass.
The display serving bowls for the initial course were coconut tree shells.
If you don't already know Denise, by now you must realize, she's talented, resourceful and creative!
Foraging and Buying Local
In the weeks leading up to the pop up event, Denise took to the local Anguilla farms, the seaside and her own garden to create her menu.
She used domestic duck raised at the new Ankor Farms located in the eastern end of Anguilla.
The turn to the new Ankor Farms in Anguilla's East End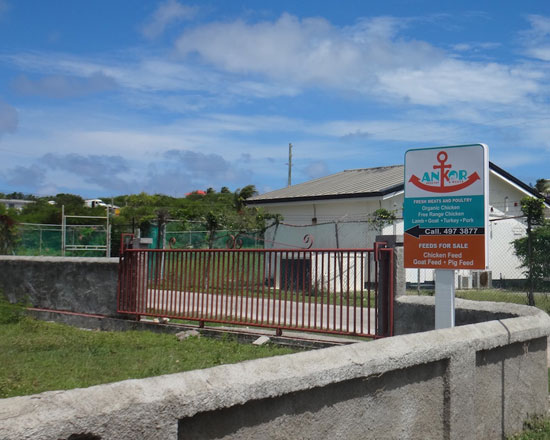 She used locally grown tomatoes from Rainbow Farms in South Hill, Anguilla.
I accompanied her to a local bay to forage for sea urchins, sea purslane and seaweed.
Denise foraging for sea urchin and seaweed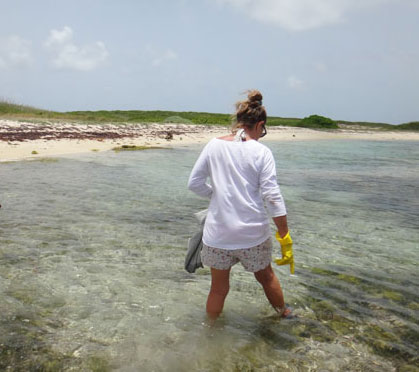 Harvested West Indies cherries
from Denise's garden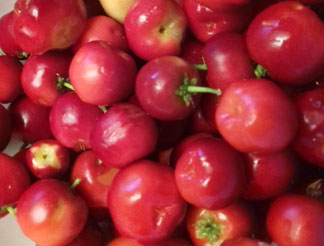 The sea urchin search was successful... She got what she needed and left many behind.
The robustly flavorful and fresh microgreens used throughout the dining event were grown in Denise's own garden.
She also used her homegrown West Indian cherries (also referred to as Bajan cherries) as part of the dessert. Anguillians refer to them as "sherries", by the way.
After reading about all of this collection of homegrown and foraged ingredients, you may be especially curious about the 7 courses!
Without further delay, here's the menu from Denise's pop up, "What We Grow"…
The 7 Course Menu
First up was the Coconut Gazpacho with baby radish and baby beets. To me, it was perfect and a very exciting start. Not only was the presentation beautiful, it was full of savory flavor yet I could still taste the mildness and sweetness of coconut. I wish I could describe it properly but it would be an injustice. I had never tasted anything quite like it and I simply loved it.
Coconut Gazpacho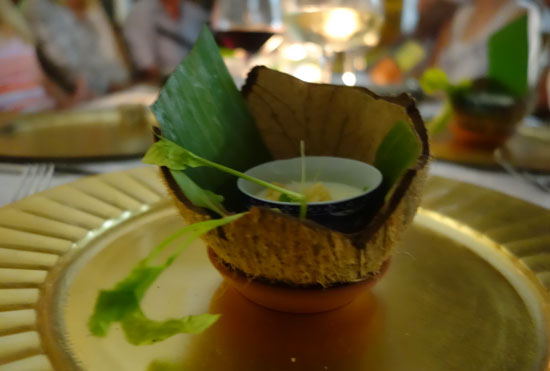 Next was a Sweet Pepper Mousse with Eggplant, microgreens, seasoning pepper vinaigrette, toasted coconut and fried plantain bits. The mousse was separate from the eggplant on the plate. Tasting them together or separate provided a reward for my tastebuds and the microgreens were a perfect dose of freshness. The toasted and fried bits of coconut and plantain added subtle and ideal texture. Another winner and we were only on course #2.
Sweet Pepper Mousse with Eggplant

The third presentation was a Roasted Tomato Bread Pudding with microgreens, goat cheese and tomato puree. This was one of my favorites.
Roasted Tomato Bread Pudding

A surprising yet delightful 4th course was a shot of infused rum. The infusion blend was very tasty and smooth and included cucumber, lime, mint, basil seeds and coconut water. I found it served as a nicely timed palette cleanser.
The next course was Asian style slow-cooked duck wrapped in a pancake. It was served with passion fruit leaves, callaloo (aka amaranth) and a stewed and pickled green papaya salad with cashew.
Asian style slow-cooked Duck with Pancake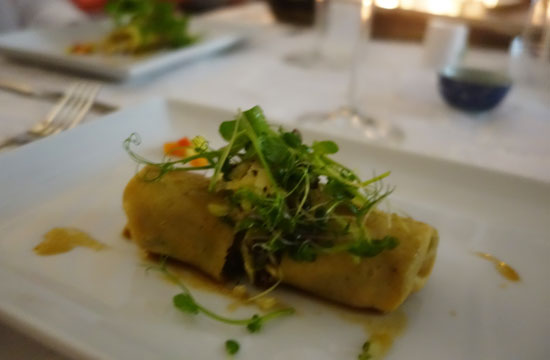 My table mate and I discussed how we generally don't favor duck but ironically very much enjoyed duck as prepared by Denise, both on this particular evening and in our previous experiences with her "Red Duck" tapa on her former menu at SandBar.
The sixth course was a mixture of yellow tail snapper, crayfish and sweet potato dumplings with a sea urchin sauce along with some seaweed and sea purslane. Many who'd never had sea urchin were happy to taste it and told me they thoroughly enjoyed it and its richness.
Crayfish & Snapper with Sea Urchin Sauce

Here's an example of a last minute alteration... Denise had planned for the course to exclusively use crayfish. When there weren't enough crayfish available, she turned to another local option of the yellowtail snapper to help round out the course. I liked the differentials on the plate as well as the touch of sweet and the alternative soft texture from the dumplings.
The finale was a goat cheesecake with West Indian cherry and coral vine.
Goat Cheesecake with West Indian Cherry Glaze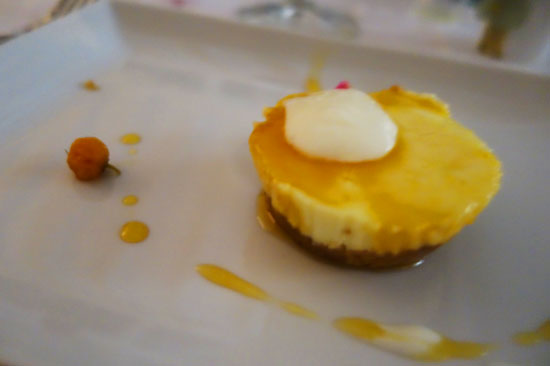 At this point, I was getting used to such decadence being placed before me and was a little sad it was over but I was left feeling just right.
My senses were fully pleased and I didn't feel over or under fed. It was a well-balanced meal and I found every morsel to be delicious and the presentation was masterly.
Also, 7 courses prepared by a chef of Denise's caliber, all you can drink wine and inclusive of a service charge for $89 US is a value on the island of Anguilla. I felt compelled to leave an additional tip as the service was deserving of it.
Looking Ahead
Since I was privy to some of the hard work, thoughtfulness and preparation that went in to her first pop up, I'm happy to report that even with the challenges of it, Denise is already working on planning her second pop-up.
It will carry a different theme and be held at a different location. She's planning for it to be held in October 2017.
One last reminder, her first one sold out quickly. Keep this in mind if this type of evening sounds like something you'd relish and the timing is right. I highly recommend it for those who appreciate the talent and creativity of a true and loving chef.