Delicious Dining on "The Strip"...
Hunter's Food Van
By: Kristin Bourne
If you are a seasoned visitor to Anguilla and even if you've been reading up on Anguilla, you likely know that Anguilla doesn't have fast food chains. One of the aspects that makes Anguilla so authentic and unique.
Love that or not, there's still a way to get hot food quickly in Anguilla and for a fraction of what you pay in most of the resort and traditional restaurants... food vans.
For example, a favorite of mine is Papa Lash's Food Van near the high school in The Valley. There are days when I crave his Plantation Sandwich and cheese patty. Likewise, Irad's chicken pasta at Hungry's Food Van is always a treat, not a last resort.
Hunters Food Van in The Valley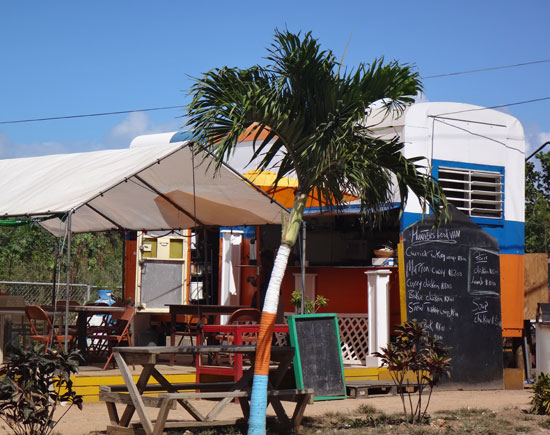 More recently, I fortunately discovered Hunter's Food Van, also in The Valley but located in the rapidly growing area, The Strip, and just a couple of trucks down from Slyco's Food Van.
Hungry and in a rush one day, I drove by Hunter's Food Van and glanced up at his signature large chalk board menu and happily noticed a vegetable roti was listed for budget-pleasing $5 US.
I pulled over, parked and ran up to his window, ordered and was on my way with a hot roti in about 5 minutes. It was tasty, full of chickpeas and fulfilling.
Hunter Food Van menu - it's altered slightly each day!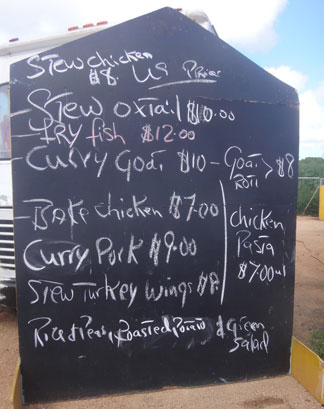 Several weeks later a friend of mine was visiting Anguilla for the first time and wanted to make sure he sampled plenty of good local food. On his list of foods to conquer was whole fish, ox tail, chicken, crayfish and goat.
I took him to Hunter's Food Van to order some food to take home and check ox tail off of the list. The stewed oxtail was as scrumptious as could be.
For $10 US, the take away container was heavy with plenty of the main entree, cooked vegetables and macaroni and cheese. We were happy!
After having had several good experiences with this particular food van and after having kicked myself for not stopping there sooner, I wanted to meet the people behind the business.
Meet the Chef, Guy Gumbs
The day I met the cook/chef and owner, Guy Gumbs, I also had the pleasure of meeting one of the key reasons he became inspired to learn cooking - his mother, Laurell Richardson.
Laurell and Guy by the older version of Hunter's Food Van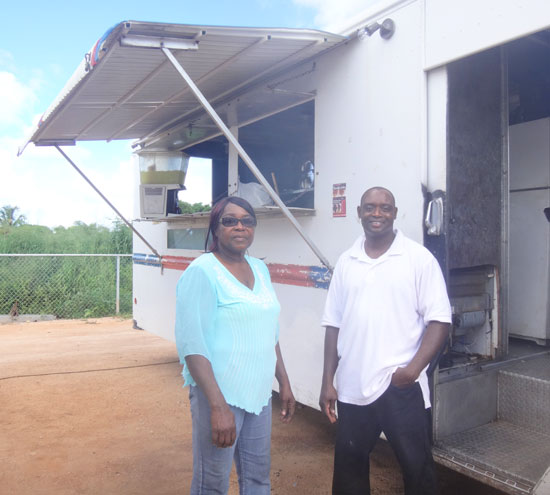 He has been cooking for over 20 years and was the opening chef at one of Nori's very favorite restaurants on Anguilla, da'Vida.
Before da'Vida he was at Cuisin'Art Golf Resort and Spa for almost a decade. He loves cooking homestyle food and it makes plenty of people happy when he does, so he decided to start Hunter's Food Van.
His food offerings and what he cooks is based on the fresh ingredients he can find, which leads to variations from day to day and week to week.
The Scoop
Before his current location in The Valley he was near the historic Wallblake House. Now you can find him beside Ken's BBQ.
Guy was one of the first food vans at what is now being referred to as "The Strip", an area designated for food vans which has become a popular nighttime "liming" destination especially for locals.
Hunter's Food Van is one of the top spots of the hotspot! Here's why…
"The Strip" in The Valley
(Hunter's Food Van is on the far right)


When I met Guy he was telling me of some recent and upcoming upgrades. The food van itself was being upgraded.
It's fresh! Painted in Anguilla's flag colors of orange, white and blue, this food van is clean and festive. He's added a new wooden deck under a broad covered area and offering music on some evenings.
Local stewed chicken, up close, flavorful.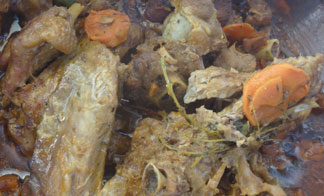 Another new addition is his homemade fruit rum with varieties like passionfruit, orange spice and ginger.
Add that to what is already in place and you could say that Hunter's has everything you might need to satisfy your thirst and taste buds.
The regular menu items are available at Hunter's every day of the week and from late morning to night, except on Sundays. Prices for meals range from $7 US to $10 US and fresh local steamed fish with provisions is $12 US.
A la carte sides are $3 US and tend to be rice and peas, macaroni and cheese, corn on the cob, cole slaw and green salad.
Guy says his most popular dishes with the locals are the oxtail and bullfoot and he tries to have that available every day.
On the weekends (Friday and Saturday) the menu becomes even more expansive…
Pizzas are available for $8 US (for a 12 inch) and $2 US per slice. Toppings include ham, pineapple, cheese, pepperoni and vegetable.
Likewise on the weekend, a popular fish fry takes place. Local pot fish with johnny cakes will be yours for only $8 US.
Wash it all down with local drinks, sodas, juices, mixed drinks, beer and wine.
Yes, it's all available at Hunter's food van!
Location & Hours
Hours: Open daily 12-8pm. Closed Sunday.