Anguilla Resort, Viceroy's
Taste of the Mediterranean...
The Half Shell Restaurant
Update 2016: The Half Shell is now managed by Four Seasons Anguilla. Read about Four Seasons' Half Shell here.
Viceroy's Half Shell At A Glance
By: Kristin Bourne
Quiet, small and tucked away on Barnes Bay, Viceroy's Half Shell is an excellent option for a luxurious, laidback lunch of Mediterranean cuisine.
More on Half Shell, below...
Funny that, considering how expansive Anguilla's Viceroy resort is, they also have the tiniest, tucked-away, quaint lunch spot serving delicious, healthy Mediterranean fare, and the scenic backdrop is breathtaking.
If you aren't into Mediterranean food, you can keep reading because even though there is a focus on Mediterranean ingredients, they still provide a variety and they have one of the most divine desserts I've had on Anguilla.
Nori and I both love Mediterranean food and were excited to catch up over lunch and experience The Half Shell together.
The Half Shell's Setting
We parked in the Viceroy's main parking lot and set off on foot down to the Barnes Bay side of resort… just follow the signs to The Half Shell.
The view as we walk to The Viceroy's Half Shell Restaurant

If you don't want to walk, you can ask concierge (at the main building entrance) to escort you down in a golf cart.
Nori and I wanted to walk to get the exercise and see the beautiful Viceroy grounds a little more closely. We weren't disappointed... Just when you reach the entry down to the Half Shell, the view is beautiful.
Approaching The Viceroy's Half Shell Restaurant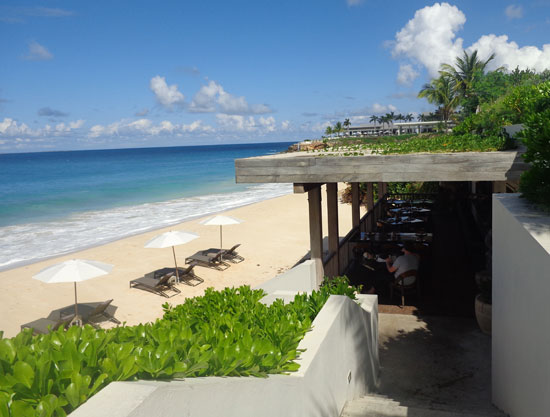 Inside The Half Shell
At Anguilla's Viceroy resort, you are on the island's northern shore. The Half Shell is on Barnes Bay. From here, you can see down to the point where Viceroy's Sunset Lounge and Coba Restaurant are located.
The Half Shell

The sound of the sea rushing in is soothing and relaxing.
Nori and I getting to know
another Anguilla hotel restaurant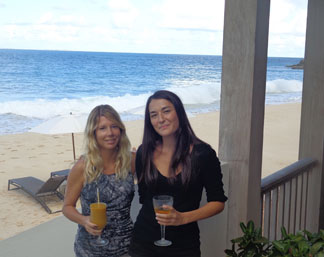 As we walked in to the Half Shell, the decor matched the feeling... clean, fresh, soothing.
The friendly bartender and server greeted us and seated us at one of the five tables.
There are barstools along the bar area for a more casual option.
Our healthy and tasty Mezze Platter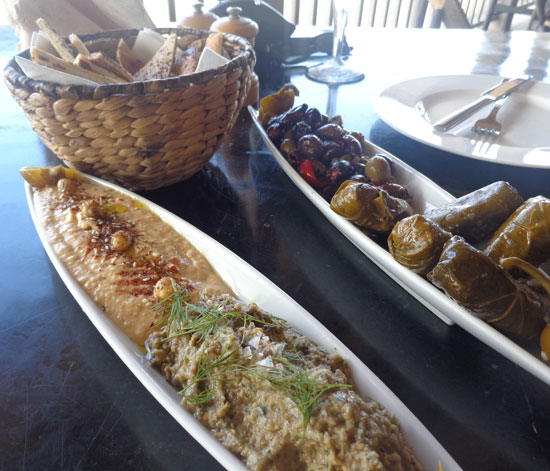 Greek Salad

Nori loved the smooth and creamy hummus and I was excited about the grape leaves.
We ordered drinks as well. Nori went with a glass of Pinot Grigio and I had a mango smoothie with a refreshing kick of mint in it.
For our entrees, Nori tried the greek salad: goat milk feta, local greens, tomato, oregano, kalamata olive, roasted peppers, and scallion vinaigrette.
Grilled Mahi-Mahi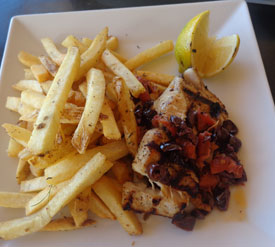 I chose the mahi-mahi which was served with kalamata olives and tomatoes.
The menu had said it would have artichokes and capers. When the mahi-mahi arrived, it was missing both. Even though I love capers and artichokes, my fish was so good, I didn't miss them at all!
Never a fan of roasted red peppers, Nori put those aside and enjoyed the salad.
She said the feta was especially tasty, and just milky enough.
We were pleased and feeling very satisfied when my friend Charles, who happens to be the Executive Sous Chef at Viceroy, came to our table to say hello and ask how everything was.
More than Meets The Eye
We asked Charles some questions about the food. I wasn't fully prepared to wrap my head around what goes on behind the scenes after an amazing lunch!
Honey & Tahini Ganache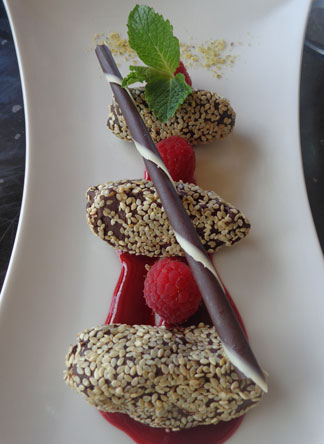 He explained the lengths that they (the Viceroy staff) go to in order to obtain some of the finest of ingredients... even something as minor as a garnish!
For instance, they will soon be sourcing the feta from Australia. Charles told us that Australia has the biggest population of Greek people outside of Greece. They produce amongst the finest feta in the world.
There is so much work that goes on behind the scenes to pull off a five-star experience on our speck of paradise. It makes me even more grateful knowing the efforts that go into everything.
After letting him know how pleased we were with our lunch, we were ready for dessert.
Charles was excited to share the work of his pastry chef and was curious to see what we would think of one of his masterpieces.
I don't have a big sweet tooth. Despite that, I was very much in love with the Honey & Tahini Ganache with toasted sesame seeds and raspberry coulis.
If you like good chocolate with a hint of texture and richness, you must try it, it was divine.
As Nori and I sat and reflected on our afternoon at Half Shell we noted that it was no wonder the celebrities who visit Anguilla can fill these tables up.
Imagine walking up to have lunch at the Half Shell and seeing the tables filled with Ellen Degeneres & Portia DeRossi, Paul McCartney & his wife, and Michael Jordan & friends. Assuming they are used to finer things, they choose the Half Shell for lunch. After our experience, that doesn't surprise Nori and I.
Half Shell Prices
Half Shell prices are in line with other high-end lunch spots in Anguilla.
Grateful for the talents of
Executive Sous Chef Charles Voudouris
and his talented team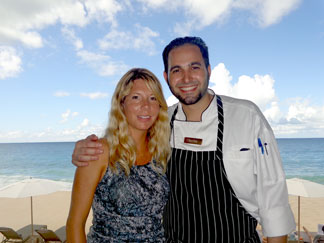 The starters were $12 US, with exception to the Mezze Platter which was $22 US. The salads and entrees ranged from $16 to $34 US with the average being around $20 US.
Other menu items included (to name a couple from each menu section): Arugula Salad, Tabouleh Salad, Grilled Spiced Vegetables Sandwich, Lamb Gyro, Conch Estouvee, Skirt Steak, Almond Cake, and Seasonal Fresh Fruit Salad.
Nori and I will be back and will try some other items on the menu... even though it would be challenging to avoid ordering what we've already had since we enjoyed it so much.
On top of the delicious food, factor in the beautiful surroundings and the great service and you get your money's worth, for certain!
Directions, Hours & Contact
Directions: Half Shell is located in the Viceroy resort. Approach the main building and feel free to let the attendants know you're looking for Half Shell. They will bring you to the restaurant on a golf cart.
Viceroy's Half Shell
Good for quiet, laid-back lunches of Mediterranean cuisine.
Hours: Daily for lunch. Closed Sunday and Monday.
Tel: 264-497-7000