"Breakfast on the Beach"...
Finding The Best Breakfast
on Visits to Anguilla
Update: Main article on Straw Hat here.
Breakfast is the most important meal of the day.
And, not to mention, my favorite one.
One thing my family and I notice on our visits to Anguilla is the short supply of great early dining.
Geraud's and Le Bon Pain cover pastries and a delicious light breakfast, but what about the traditional all American breakfast?
Who do we turn to for our four egg omelet?
On our many visits to Anguilla we have seen favorite breakfast spots come and go...
Only one still remains... Tasty's. Tasty's does serve a mean breakfast, their vegetables so fresh coming from hydroponic gardens. But, it was always difficult to wake my Dad up early to dine at Tasty's. "It's not by the water," he would sigh with a little dismay before returning to dream-land.
An Anguilla seaside breakfast, or a breakfast with a tremendous view, is practically enlightening! ;-) And so, we kept our eyes and ears open for a new spot to become our favorite most sought after meal on visits to Anguilla.
One evening while my parents were enjoying a calming meal at Straw Hat at Frangipani Anguilla resort, and chewing the fat with Peter Parles (the owner), he mentioned that Straw Hat was now doing "breakfast on the beach" too!
This was big news.
Breakfast on Breathtaking Meads Bay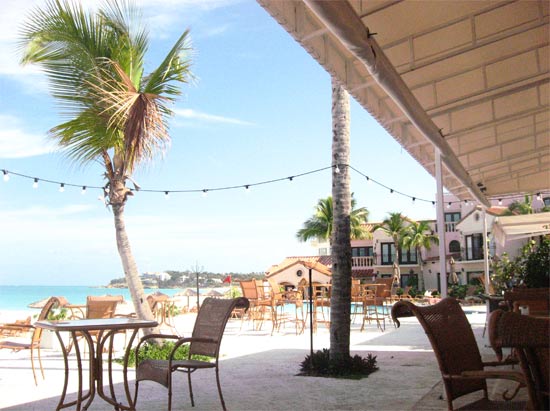 Now, this is the ideal serene scene to start your morning.
The wide expansive beach is still quiet if you arrive before 10:00 am, the waves rhythmically hitting the shore, or calmly lapping at them (Meads Bay can get particularly rough with high swells!). My Dad couldn't have been more pleased with the surroundings.
Peter was not exaggerating when he said "breakfast on the beach." Straw Hat is just feet from the warm turquoise sea.
As always, we were greeted and seated with kindness from Straw Hat's gracious staff. Peter wasn't there for breakfast, but we caught his very welcoming wife Anne, hugs all around!
The one "issue" with Straw Hat: for dinner and for lunch, whichever the menu... I am always wrought with indecision, everything always sounds so heavenly! Breakfast posed the same "problem." He he!
The Menu...
Two Eggs any Style
Spanish Frittata
Create Your Own Omelet (with your choice of a variety of cheeses!)
Continental Breakfast
New York City Bagel
Nova Scotia Smoked Salmon
French Bread French Toast
Buttermilk Pancakes
I was intrigued by the French bread French toast! I was swayed by their buttermilk pancakes, too... But in the end, trusting Peter as a New Yorker to provide a great bagel, I went with the Nova Scotia Smoked Salmon served with onions and capers on a New York City style bagel.
My Dad "created his own omelet" with goat cheese and cheddar cheese, my Mom took the Spanish frittata, an "open omelet" with sausage, peppers, potato and cheddar cheese.
Our kind waitress poured hot coffee as we sat watching the waves roll in, ferociously hitting the rocky part of the shoreline near the far Western end of the beach. Beyond the break the sea was calm, but anyone wanting to swim would have to time their attempt to get past those white crests!
My Dad's favorite part? Just the soothing sound of the sea, the restaurant was otherwise quiet, guests just stirring, other diners calm.
And then we saw our waitress carrying three big plates...
I breathed a sigh of relief. The bagel was a bit of gamble...
But it looked divine!
My sister and I were visiting my parents during a break from studies in New York at the time. One of my favorite parts of living in the city is the "New York bagel."
It had already been over a week since my last one, and the withdrawal was getting to me!
Eggs for my Mom and Dad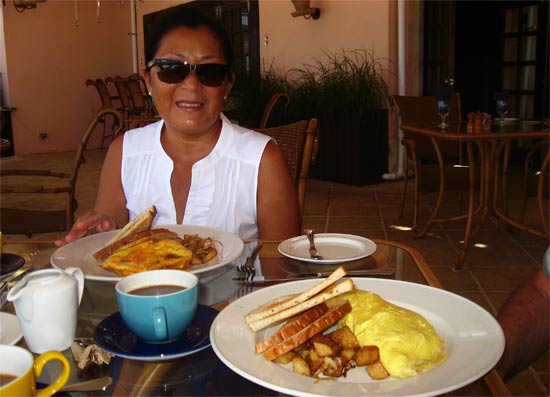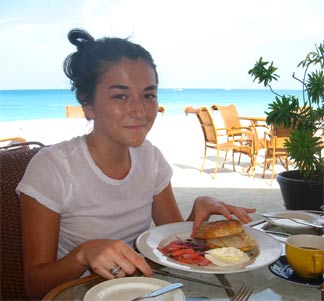 As my Mom and Dad sunk their teeth into their omelets, I started creating my bagel sandwich.
The smoked salmon looked so fresh...
Cream cheese, onion, perfect!
The sandwich complete, I started eating too.
Just like New York!
Straw Hat's smoked salmon bagel filled the New York City bagel void in Anguilla.
My parents were quietly munching away, enjoying their tasty omelets with potatoes and toast. By the end of the morning, our tummies were full and happy, and we were left calm and relaxed by the feel of the sea.
From the varied menu (next time I'm going to try that French toast!), to the quality of ingredients and service, with the spectacular location, and the reasonable cost... Straw Hat is the new contender for the best breakfast on visits to Anguilla!
We can now rest easy knowing there is a breakfast we can count on!