Rum Punch...
A Signature Anguilla Cocktail
By: Kristin Bourne
Have you noticed that rum punch and the Caribbean are almost synonymous to some?
The history we've heard is...
In colonial times, rum was produced from sugar grown in the region. Rum was an accessible ingredient. This was before refrigeration and fruit tended to spoil quickly. So, it was mixed up and served as punch. Some with rum, some without.
The real rum punch from that time period was actually more like what is known as a "ti punch" (French for tiny or small punch) today. A ti punch is very simple: rhum agricole, cane syrup, lime. No ice. No garnish. Served in small portions in more of a shot or shooter-sized glass. (Not having a sweet tooth to mention, I prefer a ti punch but that's another story for another time.)
If true, it makes sense, but we've found little data/research to back this all up.
Either way, it's interesting background information when you consider rum punch formulas that are served in Anguilla...
Rum Punch in Anguilla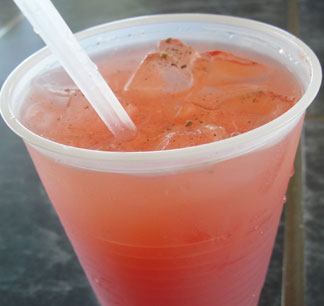 Here in Anguilla you can find a rum punch almost everywhere.
Some establishments have a fruit juice mix prepared to combine with ice, rum and it's done. Other places you will find bartenders mixing each ingredient as they go. Some add garnishes and some do not. The drink results often vary from bartender to bartender.
You will also find many great bars in Anguilla. On the beach or not, there are some memorable drinks in Anguilla that are just as or more special as the historical and popular rum punch...
Tropical Sunset on Shoal Bay makes my favorite frozen pina colada. Garvey at The Sunshine Shack makes an incredible tasting "Island Cream Dream" and Baileys Banana Colada (aka as "BBC"). da'Vida makes both beautiful and delicious drinks. Straw Hat's Espresso Martini is divine. The Place has a talented bartender in Mo. But if I want specifically, a rum punch in Anguilla, here's where I look to go:
The Rum Punch Breakdown
Scilly Cay, Sandy Island, The Ferryboat Inn, Elvis' Beach Bar and Ocean Echo.
Scilly Cay
This next one is hard for me to describe because what I appreciate about it is more so the way it makes me feel over the way it tastes. I'm talking about Scilly Cay's rum punch.
Results of Eudoxie's rum punch
from Scilly Cay... it brings smiles.

Don't get me wrong, it tastes good but there is something special about their blend that makes muscle spasms disappear while vision stays clear, in tact. I should quickly add a caveat that I've heard many talk about how strong the Scilly Cay rum punch is and most can't have more than 2. I'm not a heavy drinker but I've handled a maximum of 3 Scilly Cay rum punches and they made me feel happy, relaxed and yet still very present and not a hint of a hangover the next day.
Another quality that makes the Scilly Cay rum punch special is the amaretto floater. I've watched the beloved founder and owner Eudoxie pour one in front of my eyes and he's generous with the amaretto. Maybe it's the specialness of Scilly Cay that adds to their rum punch but if not, it's a generous, good-tasting cocktail that makes everything feel right in the world.
The Scilly Cay rum punch is more complex and I'm told it contains pineapple, orange, guava, lime cordial, grenadine, Mount Gay rum and plenty of amaretto including a floater. It's served on ice. It's special but not as special as the owners and experience you get at Scilly Cay - the rum punch is just like a cherry on top of a day at Scilly Cay.
Sandy Island
Another island destination while in Anguilla for a long afternoon with beach, food and with a popular rum punch is Sandy Island.
Sandy Island's vibrant bar produces the popular...

Jojo's Rum Punch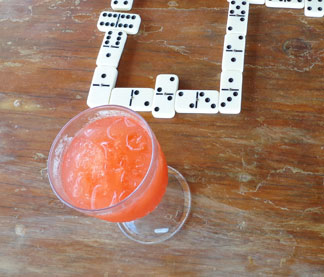 Like Scilly Cay, Sandy Island is accessed by boat and you should plan to spend the afternoon there where "Jojo's rum punch" is the popular cocktail to order. I happen to like other drinks on their drink menu as well (like the Sand Dollar!) but… The Jojo rum punch is time-honored and one of the sweeter ones that I still happen to like.
Sandy Island's ingredients include Mount Gay rum, Captain Morgan rum, orange juice, pineapple juice, grenadine and an amaretto floater .
Note the two different rums!
Unique, sweet and satisfying.
The Ferryboat Inn
The Ferryboat Inn (aka as FBI) makes what I've heard a few say is a "different" kind of rum punch. Notice though, their ingredients aren't so different from The Pumphouse's which are both the closest to a ti punch and the more historical version of a rum punch...
FBI's rum punch ingredients are Mount Gay rum, lemon juice, sugar syrup, bitters and a nutmeg and lemon garnish. It's another refreshing rum punch that has some tart and some sweet to it.
One last thing that could possibly contribute to the overall experience of a FBI rum punch is the company and setting you drink with and in.
Something else to know about FBI's main man and bartender, Christian... he has a high standard when it comes to how things are done. You won't be getting any drinks made from concentrates or mixes here.
This rewarding view comes along with your Ferryboat Inn rum punch

Elvis' Beach Bar
Elvis' famous rum punch

I realize as I'm writing this that all of the rum punches mentioned above are coming from local family owned and operated establishments that have been around a while now...
The only one not fitting those parameters is Elvis' Beach Bar and that's a compliment.
The bar itself isn't even a decade old yet but Elvis is local and his rum punch recipe has moved with him over the years of a long and successful bartending career and hasn't been altered because his clients love it so much.
Elvis' sweet heart and love of bartending comes right through your rum punch straw. His rum punch is one of the sweeter ones, likely because of the sweeter juices of guava and pineapple which he blends with orange juice, Mount Gay rum and bitters. He garnishes it with a orange slice and cherry too.
Ocean Echo
By: Nori Evoy
One more rum punch that is certainly worthy of a mention is Dillon's "Rumzie" at Ocean Echo...
The Rumzie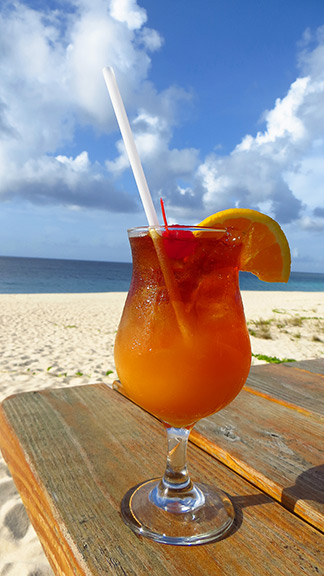 Sweet and rich, Ocean Echo's "Rumzie" is my personal favorite rum punch by far.
Potent, without being too strong, fruity, without being too sweet and overpowering, the balance is perfect.
Topped with a cherry and orange wedge, it tastes as good as it looks. Each sip goes down smooth!
The question is, of course, what's in it?
That's something we might never know.
Dillon and his family guard their recipe tightly.
"Is that an amaretto floater? A shot of Malibu, perhaps?" Dillon always laughs and deflects the question. ;-)
Served right on the smooth sands of Meads Bay, and with the Ocean Echo family's warm hospitality, whatever their recipe is, it is one for success!
What ingredients make up your favorite rum punch? Where's your favorite destination for rum punch in Anguilla? Share your favorites below!
---
ARCHIVES:

Gone But Not Forgotten - The Pumphouse

First up - The Pumphouse. For those of you who prefer sweet over tart, you may not like the taste as much however, I'm sure anyone who's looking to lighten up their day will appreciate the perfectly balanced potency. The Pumphouse rum punch is made of fresh squeezed lime juice, Mount Gay rum, cane sugar and bitters . It's shaken, served on ice and topped with freshly grated nutmeg.

The Pumphouse ambiance is perfect for their old recipe rum punch

This rum punch's ingredients makes me feel as though I'm drinking something good for me... the use of freshly squeezed lime juice providing your system with vitamins and the nutmeg offers a long list of healthy benefits.
The sugar is cane sugar and so there's no high fructose corn syrup or food dye in a rum punch from this top-spot on Anguilla and if you watch your drink be made, you'll see the nutmeg get grated over your drink right before it is handed over to you. One last plug for this rum punch - bitters has medicinal use for hiccups and easing an upset stomach.
Finally, considering the amount of them I've had over the span of 10 years, they are consistent. Even though Laurie (the owner) might make one and Shanai (the lovely bartender) might make the next, it's the same every time. I love that. You know what to expect and authenticity can't be denied.