Hearty Homestyle Dining in Anguilla at Cocono's
By: Kristin Bourne
Beautiful beaches, friendly folks
and delicious dining - that's Anguilla!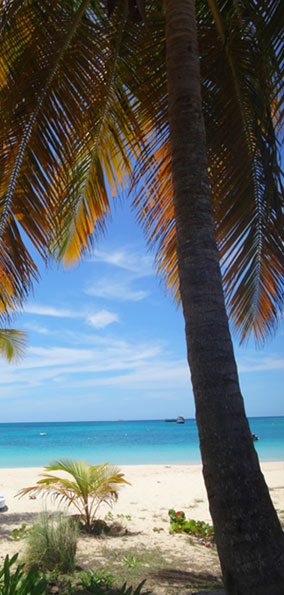 Anguilla is known for its variety of upscale dining options. In addition to the abundance of nearly perfect beaches and friendly people, this is a draw.
I've not encountered many who wouldn't appreciate indulging on the lobster medallions from Veya, the homemade spinach ravioli in butter and sage from Dolce Vita, or the grilled beef tenderloin from Ocean Echo.
While there are a variety of chic dining experiences both in individual restaurants and hotel and resort atmospheres in Anguilla, there is yet more…
From the economical and tasty roadsides like Kenny's in Sandy Ground and the food vans like Papa Lash in The Valley and on to places that are popular with both a business crowd and visitors to the island like Tasty's and Cha Cha San, Anguilla covers most culinary bases.
But where do you go when you want to eat like the locals do when they eat at home?
Why eat meals that you may find back in your own hometown when you are experiencing an exotic destination?
There is something special to eating local, wherever you are in the world. Many travelers enjoy doing just that and in Anguilla...?
Introducing, Cocono's Restaurant!
Cococno's Restaurant in Blowing Point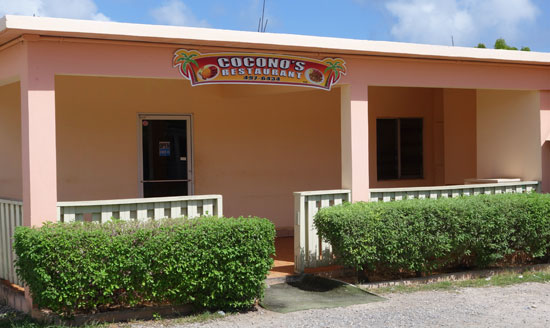 Inside Cocono's
Opened in 2002 (but new to me years later). I found my way to Cocono's after I met Diane, the woman of the Cocono's kitchen, in 2010 during Anguilla's Carnival.
Diane's friend had stopped to talk to my friend as we passed each other. I was introduced and shared a brief chat with her. She was memorable and thanks to that characteristic, I made an effort to seek out Cocono's and then my Anguilla homestyle cooking dreams came true.
As we spoke there on the beach that August Monday at Sandy Ground, I learned that Diane had years of cooking experience going back to her very childhood and she was in place when one of my favorites, The Ferryboat Inn, opened its restaurant back in 1984.
That's me with Diane and Nina...
Very sweet people who make me smile.

In 2002, after having cooked at many well-known kitchens on the island over the years, Diane and some of her family members opened Cocono's.
When I asked how they named the restaurant, I was told how there used to be a nice row of coconut palms out front when they were in the process of opening.
They were inspired by these trees at their location and named the restaurant accordingly. Sadly, you won't see these trees today beacuse they were knocked down in a storm.
What you will find is a simple, clean and welcoming restaurant with true, homestyle Anguilla cooking.
While Diane does the cooking at Cocono's she will tell you that everybody in her family cooks. Cocono's also relies on the trusty Nina, whose been helping in the kitchen for years.
The Food & The Experience
Diane uses important ingredients for flavor such garlic, onion and thyme, among plenty others. Ingredients aside, I feel as though you can taste the care and time that goes in to this homestyle cooking.
The food cooked at Cocono's are concoctions that mirror what you'll find on their own family dinner table…
Chicken many ways: Fried, stewed, baked (on the bone) and grilled chicken breast. Stewed ribs. Fresh kingfish and snapper.
Side note: Here in Anguilla you will find that the word "stewed" and "stew" are one in the same with the locals using, "stew". Likewise with "baked" and "bake", "fried" and "fry", etc.
One "Stew chicken" to go, please...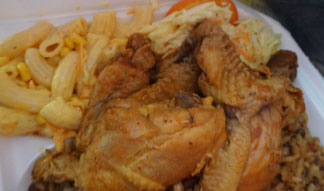 The main entrees come with delicious sides. The sides depend on what you order, however the fine ladies will accommodate your preferences.
For example, the "Stew Chicken" comes with macaroni salad, cole slaw and rice and peas. Don't be shy to ask what sides come with the meat you are ordering.
Or eat in at the Cocono's dining room.
Be sure to yell out to the ladies
how much you love your food!

The Cocono's sides range from macaroni salad, rice and peas, french fries, side salad, steamed vegetables and plantains.
They also offer hamburgers and cheeseburgers. You can add fries if you like.
On Friday's they serve ox tail and on occaision you'll see pork chops on the menu.
Beverage options are visible in the glass door cooler behind the counter. Drinks are priced econimically, ranging from $1 US to $3 US. They offer bottled water, Coke, Sprite, Arizona's, Ting, Lucozade, Mystic juices, Ginseng Up and malts.
Cocono's food prices are also very reasonable and they are neatly written on a chalk board and displayed behind the counter.
As entrees sell out, they are erased.
There's the radiant Diane with
my scrumptious plate of food!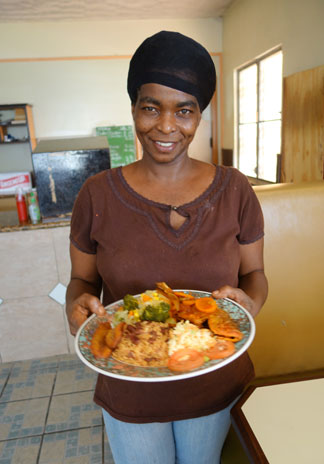 Let's focus on that snapper. On my recent visit, I had let Diane know that I wanted to try the snapper because it was one of the few dishes I had yet to taste.
I was in for a treat!
While most of Cocono's customers are taking their food to go, there is an option to eat in. When you take out, your food is served in a sturdy styrofoam, which in this case is great because the weight of the food is hefty.
If you eat in and let them know of your intention, your food will come on a large, pretty plate and you'll be given real silverware as opposed to the take away plastic utensils.
Diane's presentation of the snapper was provocative! I didn't know where to start as each portion of the plate was complimentary of the next, making it all very inviting.
I decided to start with the plantain as I had tasted one from Cocono's yet. Then I started in on the fish.
Cococno's snapper and sides = mouth watering.

Note: I had only eaten fish filets until I began visiting Anguilla. Since Cocono's is homestyle Anguilla cooking, the fish is cooked whole and trust me, it's perfectly delicious that way. See more on how pleasurable eating a whole fish can be on the Johnno's page.
My spirits weren't low when I had arrived but they were lifted once I left Cococno's…. the warmth and sincerity of Diane and her sister Della will have you coming back, if for some odd reason the food isn't enough. As I left, I had even bumped in to one of their brothers outside who I know to be an outstanding baker.
All smiles. It's a loving, hard-working, and talented, close-knit family who take pride in their cooking heritage. Most fortunately, they bring it to the counter for all of us to enjoy - and they enjoy us, enjoying it!
Map, Hours & Contact
Directions: Cocono's is located on the left-hand side of the street as you drive down to Blowing Point. It's just after the turn off to the Jeremiah Gumbs highway.
Hours: Monday-Saturday 11:30am-9:30pm, closed Sunday.
Tel.: 264-497-6434
Menu: Click here