Nov 03, 2014
Welcome New Site Sponsor, Cha Cha San
I'm excited to welcome the laidback Asian-Anguillian escape, Cha Cha San as our most recent Site Sponsor!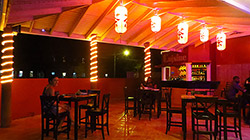 Perfectly prepared chicken curry spring rolls. Plates of steaming pan-fried Angus Beef Yaki Udon. Sushi roll upon sushi roll. Even special creations like the Rainbow City roll and Crayfish tempura made with Anguillian crayfish…
Owner and Chef Ken Lin, a passionate and hard-working man, prepares excellent and authentic dishes.
With a warm, friendly, efficient staff and a cool and light atmosphere, it's no wonder why this little-known spot has been gaining popularity!